29 August, 2018
Bobcat offers a new solution for heavy lift handling applications found in general industry, manufacturing, building materials, warehousing, quarrying and mining with the launch of the TL43.80HF telehandler.
---
28 August, 2018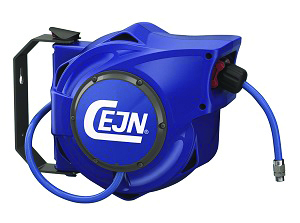 Fluid power specialist Tom Parker Ltd has introduced a new range of CEJN safety hose reels for compressed air, water, and electricity, in its new 2018-2019 catalogue. In today's productivity driven environment, Tom Parker Ltd's emphasis on quality, safety and performance make the CEJN brand the ideal choice for safety reels. With the company's additional products: hoses, couplings and blowguns, it is claimed to be the most optimised system on the market.
---
23 August, 2018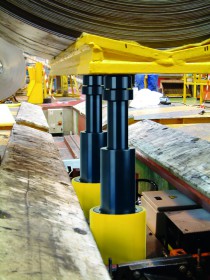 Enerpac has introduced the RT-Series range of telescopic cylinders for applications requiring a long stroke in confined spaces. With a lifting capacity from 14 to 31 ton with maximum stroke lengths of 270 to 600 mm, the multi-stage hydraulic cylinders can lift loads up to 600 mm in one single movement.
---
17 August, 2018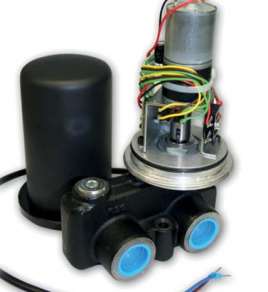 Webtec, a specialist manufacturer of hydraulic measurement and control products, is introducing its new VFD120-E electric-operated variable-priority flow divider. Designed particularly for use on mobile machinery , it allows the speed of hydraulic motors on trailed agricultural attachments and on mining and construction machinery to be controlled remotely . The 420 bar rated VFD120-E offers greater levels of efficiency than previous generation products when it is launched in the third quarter of 2018.
---
09 August, 2018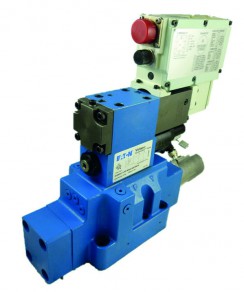 Power management company Eaton has made advancements to its AxisPro industrial valve platform, including new two-stage valve offerings and release of its all new Pro-FX Configure software. The latest capabilities are designed to offer ease of configuration, enriched user flexibility, enhanced reliability and improved diagnostics to a wider range of industrial machinery.
---
07 August, 2018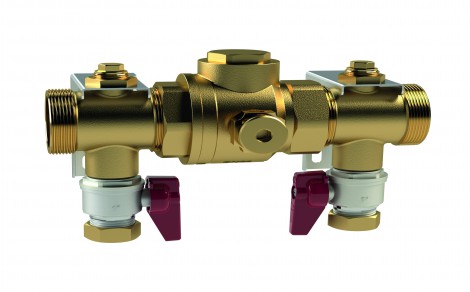 LK is launching a larger version of its MultiFill filling valve. This new model is designed for larger ground and geothermal heat pumps and has a Kvs value of no less than 40 m³/h.
---
01 August, 2018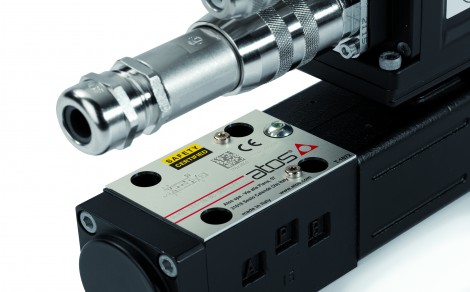 Atos claims to be the only worldwide manufacturer offering a full range of proportional and conventional valves designed for functional safety and certified by a notified body.
---
27 July, 2018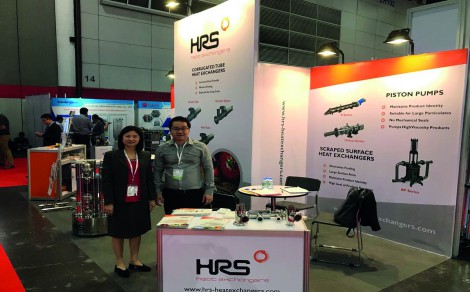 HRS Heat Exchangers shone a light on a forgotten area of food wastage at this month's Propak Asia (13-16 June, BiTEC – Bangkok international Trade & Exhibition Centre, Bangkok, Thailand) – food lost during cleaning cycles and production changes. The HRS R Series of scraped surface heat exchangers removes food residues from inside the exchanger, meaning that food factories can now recover valuable product when heating, cooling or pasteurising viscous or sticky foods.
---
24 July, 2018
A Hydra-Slide hydraulic skidding system, turntable and related products combined to provide a suitable alternative to a crane as transport and heavy rigging firm Dynamic Specialized replaced a transformer at a facility in Northern Virginia recently.
The scope of work was two-pronged in that it covered the removal and relocation of one unit in addition to positioning of a larger transformer on the vacated foundation. The existing transformer weighed 190,000 lbs. and measured 20'5" x 18' x 14'9", while the other (to be kept as a spare) was larger, at 28'2" x 18'6" x 18'1, and weighed in at 300,000 lbs.

Josh Sohler, operations manager at Dynamic, said: "This was a difficult project for us to secure as the local crane company had done a very good job of convincing the client that a jacking and sliding system was simply too slow and they could beat our schedule. While our method was already more cost effective it took some convincing to demonstrate that we could get the work done at the same pace, once they factored in crane set-up time etc."

The alternative solution utilised Dynamic Specialized's HT500 heavy track hydraulic skidding system and a Hydra-Slide turntable of the same capacity. The HT500 was employed to slide the loads, while the turntable rotated the larger transformer 90 degrees – a requirement due to leaving it 'fully dressed', as Sohler explained. "The transformer was scheduled to be disassembled, drained and have all of the bushings removed as they had originally planned on the crane lift. Once onsite, we worked with the other contractors to evaluate the conditions and special limitations and decided we could in fact move the heavier transformer fully dressed from its storage location to its final pad, providing we could rotate it to create clearance for the radiators. Our method shaved several days off the original schedule as the unit did not have to be disassembled or reassembled in its final resting place. The project was an eye-opener for the client on the potential of the Hydra-Slide range."
Sound investment
Dynamic Specialized's fleet also includes Ekki hardwood jacking timbers, a gasoline-powered pump and jacks. However, Sohler acknowledged that it is likely to place orders for additional equipment in the future. He said: "We did not have a single specific job in mind for our initial purchase, but we had several projects with similar needs. The Hydra-Slide system allowed us to cover a multitude of project ranges and proved to be a much better investment that we even initially thought. As a comparatively smaller company to some of our competitors, we wanted a turnkey system that would allow us to keep our focus on our business goals and not on piecing together our rigging systems from various vendors; Hydra-Slide offered us this solution."
Dynamic's work inherently lends itself to utilisation of the Canadian manufacturer's range of products, as the majority of contracts involve receiving project cargo from the nearest railhead, offloading it onto transportation, and setting units on foundations. Loads can include transformers, generators, heat recovery steam generators (HRSG), and other large or over-sized items.
Sohler concluded: "The Hydra-Slide staff and products are second to none. The system and support have been, and continue to be, well over our expectations and we could not be happier. Many of our local competitors are either still utilising older, 'homemade-type' systems or utilising larger class (and much more expensive) cranes to do the same work. The Hydra-Slide system is quick, clean, safe, and controlled; we continuously receive compliments before, during, and after projects."
---
18 July, 2018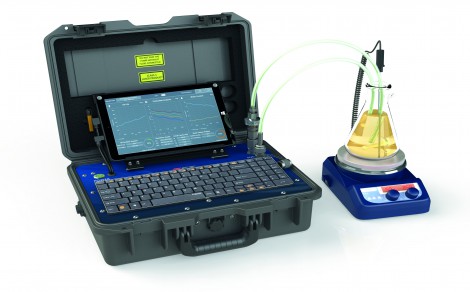 Filtertechnik has developed what it describes as a world first with its new Particle Pal Life self-contained portable measuring system. Building on the success of the award-winning Particle Pal, this new offering provides real-time ISO cleanliness readings, together with water content and oil condition information for over 500 commonly used oils all within one compact kit.
---
10 July, 2018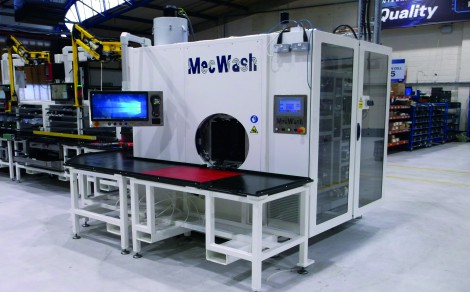 HUSCO International, developer and manufacturer of hydraulic and electrohydraulic controls, has installed another MecWash Midi component cleaning system following the success of previous installations.
---
06 July, 2018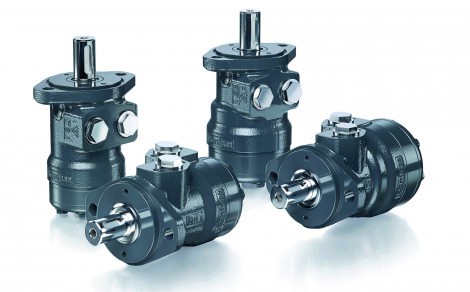 Sheffield-based Neilson Hydraulics is offering the new generation of Danfoss Orbital motors – type OMP X and OMR X to the UK market. The key benefits of the NEW Danfoss Orbital X motors include:
---
27 June, 2018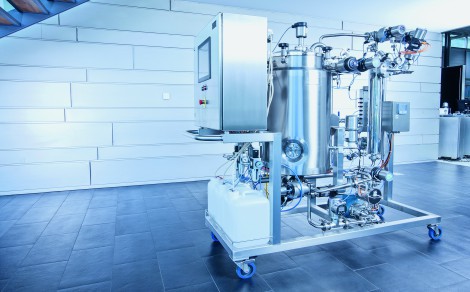 Clean-in-place (CIP) has been used for maintaining the cleanliness of process equipment in the pharmaceutical and food & beverage industries for over 50 years. However, specifying the most appropriate valves and sensors to control a CIP process can make a huge difference in terms of how effective and efficient the system is, which in-turn has a significant impact on operating costs. Here are Bürkert's top-ten tips for optimising your CIP process.
---
15 June, 2018
Daikin's new Ecorich EHU 40 series powerpack units utilise a high efficiency, variable speed electric motor that reacts upon demand to ensure the issue of wasted energy is eliminated. Daikin comments that the units take advantage of the motor technology developed in the company's air conditioning systems to reduce energy consumption by up to 80% over a conventional hydraulic power pack unit.
---
13 June, 2018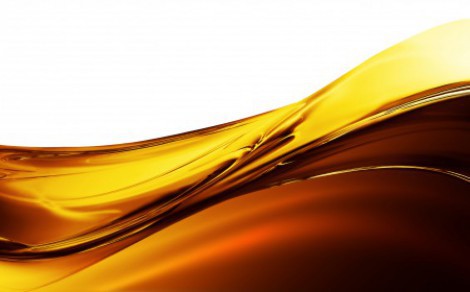 Panolin's CO₂ST reduction model, certified by the UK Carbon Trust, can demonstrate potential savings in CO2 emissions and operational costs when utilising their long life biodegradable oils. According to Panolin, the extra cost of lubricants is usually recovered within 12 months, making them highly cost effective.
---