27 November, 2019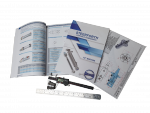 STEERFORTH has announced its new 2020 catalogue has been published as the company begins its 44th year in business supplying hydraulic cylinders and associated componentry.
---
16 October, 2019
Based on a proprietary and patented crosslinking system that has been developed specifically for the chemical processing industry, DuPont Kalrez Spectrum 7275 seals are reported to exhibit minimal swelling and improved retention of physical properties when exposed to aggressive chemicals such as concentrated nitric acid, organosilanes, chlorosilanes, pure ethylene oxide, butyraldehyde, amines, vinyl monomers and acrylic monomers. Kalrez 7275 seals are available in the UK from authorised distributor DICHTOMATIK.
---
16 October, 2019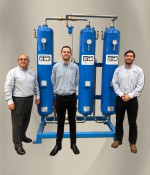 HI-LINE INDUSTRIES, a leading UK supplier to the compressed air sector, reports it has welcomed three new employees to its ranks. Stephen Martin joins as sales director, Matt Johnson takes up the title of project engineer while Brad Beesley arrives as internal sales co-ordinator. The news comes in the same week as Hi-line celebrates its latest safety award: the company has been granted the prestigious SafeContractor accreditation by Alcumus.
---
09 October, 2019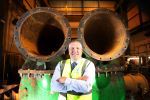 Electro mechanical engineering specialist HOUGHTON INTERNATIONAL has appointed Chris Weston as its new pump sales engineer. Highly experienced with an excellent track record within the pump industry, Chris will support the existing pump services team as it continues to develop its service offering to reflect the evolving needs of the market. Offering hands on technical sales support, Chris will work with customers throughout the UK providing responsive solutions to their maintenance issues and pump needs.
---
07 August, 2019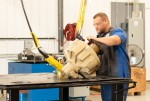 ROTARY POWER has announced it has opened a North American service centre in Sioux Falls, South Dakota.
---
07 August, 2019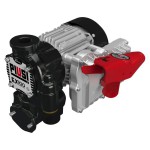 Piusi's new EX100 and EX140 pumps with ATEX and UL certification, were reportedly developed to meet the specific requirements of various fuel transfer markets and the maximum safety has been applied to these pumps when dealing with potentially explosive atmospheres or flammable fluids.
---
07 August, 2019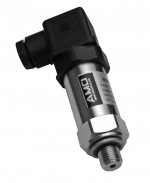 The AMO M10 is a new low cost industrial pressure transmitter designed for general purpose pressure measurement. BELL FLOW SYSTEMS says this sensor is rugged and durable, providing accurate measurement even under harsh conditions, available in gauge, absolute and sealed gauge versions and the MPM489 model is the ATEX approved version certified to ATEX Exia IIC T4 Ga .
---
06 August, 2019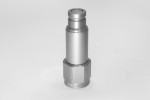 HOLMBURY says it has been in the business of offering quick release couplings (or "QRC's") for over 30 years and has one of the most comprehensive product ranges on the market but recently it discovered a very interesting fact.
---
18 July, 2019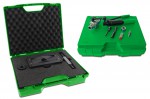 CONTA-CLIP now offers a combination of a hydraulic hand pump and sheet-metal punching tool. The company says users can thereby produce break-outs in control cabinets for KDSClick, KDS-FB, KDS-KV, and KES cable entries within a few minutes. The hydraulic hand pump contains no hose and features a user-friendly, compact design.
---
07 June, 2019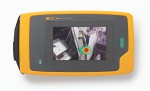 Compressed air systems can lose a significant amount of air through leakage. For example, according to the United States 'Compressed Air and Gas Institute' (CAGI), the average compressed air system loses 30% of its air through leaks. Locating those leaks has been a time-consuming and tedious process. The new FLUKE ii900 Sonic Industrial Imager can enable maintenance teams to quickly, and visually, pinpoint the location of compressed air, gas, and vacuum system leaks even during peak production periods. Leaks can be detected in a matter of minutes. More information can be found at www.fluke.co.uk/ii900
---
21 May, 2019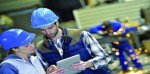 Across the UK, no matter what industry a company specialises in, machine downtime can have a major impact on your business. If you're not prepared, technical errors in your appliances can bring significant costs to your productivity and impact your business's profit margin.
---
05 April, 2019

When considering a new investment in hoist technology, a full comparison between pneumatic and electric hoists can pay real dividends. In short, pneumatic hoists from J D NEUHAUS (JDN) offer numerous advantages over their electric counterparts. The company says in areas such as duty cycle, variable speed control, weatherproofing, installation and operation, maintenance, robustness, investment costs, lifetime costs and of course safety, a JDN pneumatic hoist really makes a difference.
---
05 April, 2019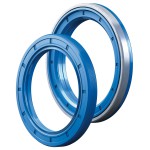 Freudenberg Sealing Technologies says it is creating a turning point in the purchasing of B2B seals and components with its "Industrial Supply and Services" online platform exclusively starting in the UK as the first local market.
---
05 April, 2019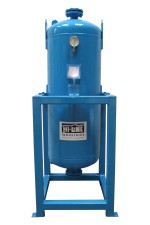 HI-LINE INDUSTRIES, a leading UK supplier to the compressed air sector, has unveiled a range of Activated Carbon Towers to suit a number of diverse applications, including those involving breathing air equipment or food production, for example. The company says the new carbon towers are manufactured from the same high-quality vessels used for Hi-line's dryers, and filled with either zeolite minerals or carbon to suit the specific application.
---
22 February, 2019
The DuPont Kalrez LS390 series of perfluoroelastomer sanitary seals have been designed specifically for use in sectors that include life science, food and beverage, and pharmaceutical. Kalrez LS390 can provide longer seal life and tighter sealing, which can improve productivity and process optimisation. Moreover, the new seals can create a safer environment in the day-to-day running of process plants and manufacturing facilities. Kalrez LS390 seals are available in the UK from authorised distributor DICHTOMATIK.
---