Long fatigue life and low bending radius: Meeting the need for braided hydraulic hoses
27 June, 2023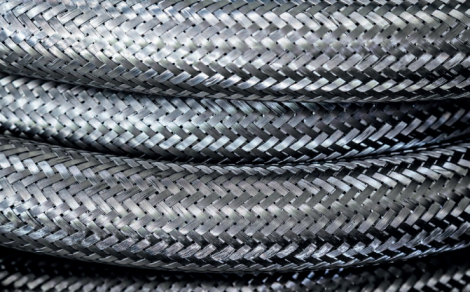 There are several individual prerequisites when it comes to selecting a braided hydraulic hose, including working pressure, fatigue life, bending radius, abrasion resistance, construction integrity, corrosion resistance, chemical/fluid compatibility, temperature resistance and flexibility. H&P takes a closer look.
Identifying a hose that can deliver on all fronts has historically proved challenging. The issue is compounded when trying to find a supplier that can match product excellence with high levels of customer service and engineering support, while simultaneously demonstrating an ethos of continuous improvement in R&D, production and testing.
Although opinions vary when it comes to stating the leading factor that influences the purchase of a hydraulic hose, many machine builders look carefully at fatigue life. Luca Pozzi, Product Manager Hoses, Polymer Hose Division Europe, Parker Hannifin explains that they want a hose that lasts for a long period as it can serve as a machine USP (unique selling point) for the sales team, while also reflecting well on their brand and market reputation. For the end user, hose longevity saves the inconvenience and cost of frequent hose replacements, production downtime and corresponding loss of productivity.
Tired of short hose life?
So, what governs the fatigue life of a hydraulic hose? Pozzi says that so-called impulse testing is a key indicator of hose life. Impulse testing involves the pressure cycling of hose often up to 133% of working pressure, at frequencies up to 1.3 Hz, with the hose held in either a 90° or 180° configuration.
Typically, an EN or ISO standard defines the minimum performance parameters for a hose. A design engineer seeking a hose, suitable for their project, can view the impulse test parameters associated with these standards and the number of fatigue cycles claimed.
Ahead of the curve
Another increasingly significant factor in choosing a braided hydraulic hose explains Pozzi, is the bend radius. Unfortunately, he says hose selection is often an afterthought: "Today's design focus for off-highway and construction vehicles centres on size and weight, without compromising power or performance. A more compact, lighter machine will yield lower fuel consumption: a factor even more pertinent in the current inflationary cost climate."
However, Pozzi adds that while designing a compact machine makes clear economic and environmental sense, the need subsequently arises to source a hydraulic hose with a low bend radius in order to be able to install in tight and confined spaces.
Although he says engineers should, of course, consider the hose at the time of system design, it is now possible to source a robust, long-life braided hydraulic hose that also offers low bending radius. In turn, machine designers can create more compact units.
Covering all bases
Beyond long, quantifiable fatigue life and low bending radius, Pozzi comments that OEMs should also seek out a hose with high levels of abrasion resistance, as in many applications it is impossible to avoid contact with other machine elements: "Look for a manufacturer able to offer a range of different cover compounds. If the application is particularly challenging, some of the more advanced cover compounds available today can offer up to several hundred times more abrasion resistance than a hose with a standard rubber cover."
---