25 August, 2017
Tim Duffy has been appointed as the new sales manager for Sunfab UK Ltd., taking over from Marc Burns who will now be looking after Sunfab USA Inc.
---
23 August, 2017
David McLean, hydraulics divisionai manager at Tidyco Ltd., discusses the type of design, service and maintenance provision end-users and OEMs should insist on from their hydraulic and pneumatic products and system providers.
---
23 August, 2017
By Martin Cuthbert, managing director, Webtec Ltd.
---
23 August, 2017
Dr. Cameron Watson, general manager, lubricants technology-OEM & direct sector, considers the importance of a wider understanding of the critical part lubricants play throughout the operational life of plant and equipment.
---
23 August, 2017
South Yorkshire-based Neilson Hydraulics is expanding its range of engine driven hydraulic power units to incorporate Hatz silent pack engines.
---
23 August, 2017
MP Filtri has designed a new bespoke diesel filtration unit featuring an ICM (In-line contamination monitor). The GRM503 is an essential piece of equipment for production line cleanliness and can be used in a wide range of sectors, from industrial through to mobile.
---
23 August, 2017
S3 Light
---
23 August, 2017
Power management company Eaton has expanded its hydraulic hose portfolio with the release of Eaton GH681 hose series, a new high performing one-wire braided hose qualified to 1 million impulse cycles.
---
23 August, 2017
Enerpac has introduced a new Ultra-Flat hydraulic cylinder series for those projects with small working space, starting at just 2,8 cm, but large lifting requirements up to 1000 ton.
---
23 August, 2017
Derek Lane & Co Ltd., based in Newton Abbott, Devon, has recently had its acceptance to manufacture hydraulic hose assemblies upgraded to the new DefStan 47-32 Issue 3 standard from the Ministry of Defence (MoD).
---
16 June, 2017
High pressure hydraulics tools specialist, Enerpac, is developing a webinar programme for distributors, customers and anyone else who regularly uses hydraulic tools.
---
16 June, 2017
EMR is a privately owned recycling company with a heritage dating back to the 1940s. The company employs around 4000 people operating at 150 locations around the world. EMR's core business is the recycling of scrap metal from a range of sources such as end-of-life vehicles/consumer products, industry, construction and demolition. This results in sales of recycled commodities of around 10 million tonnes each year.
---
16 June, 2017

By Arnold Kleijn, product development manager, HRS Heat Exchangers.
---
16 June, 2017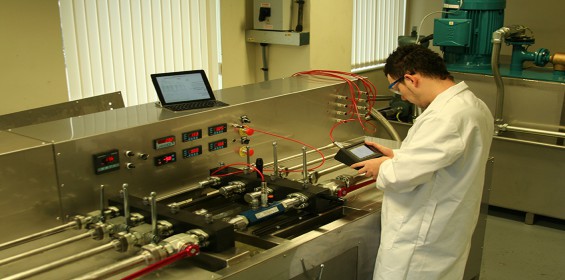 Hydrotechnik UK has unveiled a major new addition to its existing calibration department. Its brand new £100,000+ flow test rig enables the company to offer full in-house flow meter recalibrations traceable to National Standards.
---
16 June, 2017

Today, additive manufacturing (AM), or 3D printing, is commonly used in special fields such as dental, medical and luxury goods. It is also increasingly being deployed in industries as aerospace, automotive and oil & gas.
---