15 February, 2017
Richard Quelch, an experienced mechanical design engineer, has joined Rotec's development team.
---
15 February, 2017
MCS Hydraulics UK Ltd. has appointed Andy Knight as UK sales manager. Knight said of his appointment. "I have known MCS Hydraulics Srl for several years now and have always been very impressed with the quality of their product. It's very exciting to now be part of the team and to be able to help towards the UK growth".
---
15 February, 2017
igus has expanded its robolink D modular kit with strainwave gearing in two sizes. The gearing, which is available as an individual component, or with an integrated NEMA17 or NEMA23 stepper motor, consists of an outer ring gear and a flexible wear-resistant inner ring gear made of iglidur high-performance plastic.
---
15 February, 2017
Pirtek Birmingham's portable flushing rig is combined with a filtration unit and laser particle counter to achieve and measure cleanliness levels. Operated by fully trained hydraulic engineers, the rig is used to clean hydraulic hoses prior to installation to prevent contaminants from entering the ring main and also to clean complete systems where contamination is present.
---
15 February, 2017

Parker has introduced its new Servo Fan kit for use with the SMH/SMB series servo motors.
---
15 February, 2017
Power management company Eaton has launched its GH100 and GH101 hoses for high-percentage biodiesel blend and high-temperature oil applications.
---
15 February, 2017
Eaton has expanded its FD85 series of robust quick disconnect couplings, which help prevent downtime caused by leakages, pressure drops and contamination of hydraulic fluid in industrial and mobile equipment, oil & gas and construction applications.
---
15 February, 2017
Hydra-Cell pumps are finding favour in filter press applications for both chamber feeding at high pressure and for fuelling the cloth washing operation.
---
15 February, 2017
From March, Webtec will be able to offer seven-working-day lead-times on all single piece hydraulic rotary directional control valve orders.
---
15 February, 2017
Hercules Hydraulics has recently designed and manufactured four very small hydraulic power units (HPU) for an offshore oil/gas installation.
---
15 February, 2017
By Luca Pozzi, product manager Hose, Parker Hannifin.
---
15 February, 2017
Paul Shillam, managing director of Star Hydraulics, considers what end users and OEMs should look for in terms of equipment and service provision from their suppliers.
---
15 February, 2017

If you are looking for a good example of elite success at major sporting events prompting people to participate, cycling would be high on your list. Whether for exercise, enjoyment, as part of a daily commute, or at a competitive level, the figures confirming the growth of pedal-power are impressive. It is estimated that around 2 million people in the UK now cycle at least twice a week.
---
27 January, 2017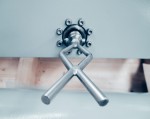 The offshore industry is one of the harshest environments to work in, for both machinery and personnel. Salt water can corrode parts and strong winds and crashing waves can damage equipment.
---
09 December, 2016
Tobias Simmendinger has been appointed director products & markets at the industrial technology company Linde Hydraulics. In his new role Simmendinger is responsible globally for the firm's product management, business development & marketing and corporate communications.
---