Efficient and low noise performance HPU for aerospace manufacturer
03 July, 2023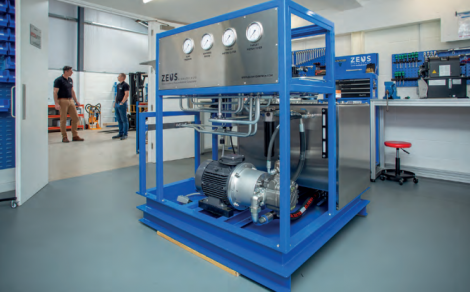 A major aerospace manufacturer in the Southwest of the UK approached Zeus Hydratech - hydraulic power pack design engineers - to design and manufacture a Hydraulic Power Unit (HPU) to replace an existing system that had become unreliable and was suffering with a severe deterioration in performance. Due to the age of the existing power unit, components were obsolete making it virtually impossible to effectively service the unit. H&P reports
With a requirement for precise control, the quenching press had developed issues with pressure loss, jerky movement, and overheating. This press is responsible for mating two precise gear sections on to a rotor shaft, these components are then quenched in a temperature-controlled environment.
Typically, failure to successfully complete the full duty cycle will result in critical components loosing up to 0.1mm from the finished shaft surface. Consistent tolerances for these critical components are vital to meet manufacturing build schedules and to avoid excess wastage.
The brief: T
o design and manufacture a Hydraulic Power Unit that will interface with the existing hydraulic press connections (Electrical and hydraulic) It must also be capable of delivering consistently smooth and reliable operational performance, be easy to maintain and provide visual feedback to the machine operator.
The following parameters required consideration within the design:
1: The existing control logic was to be retained, therefore all solenoid valves needed to be carefully specified to allow direct integration and permit a seamless control transition.
2: The operating fluid is a specialist fire safe fluid which meant components needed to be carefully selected to prevent adverse performance. In addition, a stainless-steel oil reservoir would be required as there was evidence of paint deterioration on the existing steel reservoir.
The approach:
The existing hydraulic power unit (certainly when new) provided sufficient performance for the hydraulic press however, after reviewing the hydraulic schematic and components, the Zeus engineers felt we could provide a more elegant solution that would provide smoother operation, reduce potential leak points, and give additional operator feedback.
After running all relevant performance calculations for each of the components, our design team was able to commence with the overall design of the power unit. Utilising Solidworks software (CAD) we started with the fixed points of the existing press connections (namely the 13 hydraulic pipe connections) to insure the finished power pack would seamlessly interface within the available space and existing connections. From this point, the overall power pack model was designed to incorporate all required features. While designing the power pack, we gave high priority to future servicing and accessibility. In additional, we specified high quality filtration systems to safeguard the complete hydraulic press and significantly prolong the power pack operational life.
In addition to the HPU performance, we also wanted to consider site installation, so designed the power unit to accept a forklift and pump truck to permit easy installation on site and accurately position the unit without the need for an overhead crane.
---