15 February, 2017

If you are looking for a good example of elite success at major sporting events prompting people to participate, cycling would be high on your list. Whether for exercise, enjoyment, as part of a daily commute, or at a competitive level, the figures confirming the growth of pedal-power are impressive. It is estimated that around 2 million people in the UK now cycle at least twice a week.
---
27 January, 2017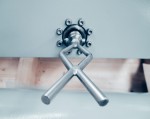 The offshore industry is one of the harshest environments to work in, for both machinery and personnel. Salt water can corrode parts and strong winds and crashing waves can damage equipment.
---
09 December, 2016
Tobias Simmendinger has been appointed director products & markets at the industrial technology company Linde Hydraulics. In his new role Simmendinger is responsible globally for the firm's product management, business development & marketing and corporate communications.
---
09 December, 2016
The Filtration Group, the company that has taken over the Industrial Filtration division of Mahle, reports that the series production of the next generation of Mahle Premium Select filter elements has now begun.
---
09 December, 2016
Spectronics Corporation and ChemPoint.com EMEA BV have announced the beginning of a strategic partnership for distribution of their Spectroline Water-Glo, the company's premier fluorescent leak detection dye for water/water-glycol based systems. The terms of the agreement grant ChemPoint the exclusive right to distribute and market Water-Glo in Europe, the Middle-East and Africa. Spectronics is a manufacturer of ultraviolet equipment and fluorescent materials.
---
09 December, 2016

Hytek, which launched its Flow Meter Division in November 2015, continues to add new product ranges.
---
09 December, 2016

Whenever machines and equipment vibrate – whether they be motor driven or conveyors for fragile assemblies, then the Elesa range of vibration damping elements can serve to cushion the vibrational energy. This leads to greater operator comfort, greater accuracy, reduced damage and longer lifetimes with reduced maintenance.
---
09 December, 2016
The launch of new hydraulic lifts from Totalkare proved to be one of the highlights of this year's Eurobus 2016, the event for the coach and bus industry held at the NEC in Birmingham. The hydraulic lifts are the first to carry the Totalkare name and generated considerable interest during the show.
---
09 December, 2016

Effective sealing in today's demanding hydraulic applications requires seals and lubricant to work together. Holger Jordan, segment manager fluid power Europe for Trelleborg Sealing Solutions, outlines how 'Lubrication Management' is helping make this happen.
---
09 December, 2016
MP Filtri has launched the new ICM 2.0 in-line contamination monitor, which includes improved features such as:
---
09 December, 2016

ExxonMobil has launched Mobil Serv Lubricant Analysis, a new mobile-enabled used oil analysis service. The new service will help operators identify equipment issues before they happen and avoid unscheduled equipment maintenance.
---
09 December, 2016

By Matt Hale, International sales manager, HRS Heat Exchangers.
---
09 December, 2016
Precision and reliability are two critical requirements of testing and analysis for clinical diagnosis; a collaborative project has now combined these with efficiency and cost effectiveness by designing a new modular microfluidic solution.
---
25 October, 2016

Techmaflex, the French manufacturer of assembly machines, has developed a hose crimping solution specifically for use in the forestry industry.
---
25 October, 2016
By Jerry Hughes.
---