Portescap's new miniature motor R&D facility increases customisation capability
19 July, 2022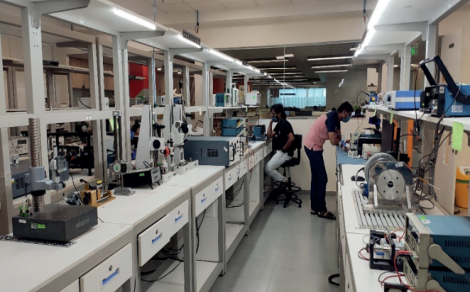 The design and development of miniature motor motion solutions is integral to applications from medical equipment to robotics through to industrial power tools, in settings that demand performance and reliability. Concept design, development and testing not only has to be rigorous and relevant to specific application conditions, but also has to be fast enough to meet the needs of demanding markets. As a result, Portescap, which develops miniature motors for global OEMs, has enhanced its R&D capabilities by creating a new Engineering Lab.
The Covid-19 pandemic meant that fast reaction was needed. A key requirement for the medical care of patients who had contracted the virus was the use of ventilator machines, and with high and urgent demand, new machine designs were needed that could rapidly fill the gap. A ventilator OEM in India turned to Portescap's Mumbai team for a fast yet reliable motion solution. The company's new Engineering Lab had recently come on-line at Portescap's Mumbai facility, which allowed a suitable miniature slotless, brushless DC (BLDC) motor to be designed, tested and then brought into production quickly.
Faster time to market
Dheeraj Saxena, Portescap's global head of research & development, says: "While Portescap has R&D expertise and facilities in Switzerland, the United States and in India, the new Engineering Lab in Mumbai has enhanced the company's ability to quickly develop new products for production, meaning a faster time to market for our customers."
The new Engineering Lab has been developed to enhance miniature motor design across worldwide markets. Ideally located in close proximity to the company's India production facility, the expertise of the Mumbai Engineering Lab team will develop solutions for customers in India selling globally, as well as supporting the company's international R&D capability which creates products for use worldwide.
The facility will develop miniature motors to standard designs for large-scale markets, where the Mumbai team will assist Portescap's global R&D capability in bringing new products to market. In addition, a particular focus for the Engineering Lab includes custom OEM projects.
"Our DNA is to provide custom motion solutions, and that's where we work very closely with customers," continues Dheeraj. "The Switzerland and US teams have their own expertise, and the new Mumbai Engineering Lab will support the customisation development for customers worldwide."
In the US, the focus for Portescap is to design and develop slotted BLDC custom motion solutions to maintain its leading position in the surgical motion solutions market. Meanwhile, Portescap's Switzerland team designs and develops BLDC slotless motion solutions motors manufactured in Mumbai.
The new Engineering Lab means that the Mumbai team will now also support BLDC slotted flat motion solutions for the global robotic and surveillance market in addition to its expertise with DC and stepper motion solutions. This covers applications such as surgical robots and surgical tools, ventilators, medical infusion systems, as well as industrial power tools. The facility will also focus on emerging markets, enabling Portescap to utilise its technology to meet new demand, part of the company's 'Dream, Develop, Deliver' concept.
---
AIR-TECH EXHIBITION


16 April, 2024, 9:30 - 18 April, 2024, 4:00




Hall 9, the NEC, Birmingham, UK

FLUID POWER & SYSTEMS EXHIBITION


16 April, 2024, 9:30 - 18 April, 2024, 4:00




Hall 9, the NEC, Birmingham, UK