29 April, 2015

International construction equipment manufacturer Chicago Pneumatic has unveiled its new range of mobile diesel-powered generators for the European market. The rugged and easy-to-move CPDG range provides reliable and consistent power to any construction site, with five models available in 9, 14, 20, 30 and 40 kVA ratings. Suitable for prime power applications in the general construction and rental industry the generators are fully CE compliant for use in Europe.
---
29 April, 2015
The latest Logiclave type vertical closing autoclave from ESTS claims to reduce running and maintenance costs by up to £60,000 over an average 10 year operating period. The secret to achieving this figure is low maintenance, high reliability and low energy consumption. This is largely made possible by the use of a flash steam generator and a combination of Bürkert Type 2000 angle seat steam valves and rotary ball valves.
---
02 April, 2015
Following its recent acquisition, Titan Technologies' bolting solutions has been added to Chicago Pneumatic Tools product portfolio of high quality power tools. According to Chicago Pneumatic Tools, the integration means that the company can now offer a more complete offering, and is able to respond to all customers' requirements for industrial bolting tools.
---
02 April, 2015
Eisele, in cooperation with Murrelektronik, has continued development of its modular kit for multiple connectors to create the Multiline E. The adaptive inserts of the Multiline can now also be equipped with electrical and electronic connections.
---
02 April, 2015

Fast, reliable and efficient – the new Festo Design Tool 3D configuration software reduces the risk of errors when designing and ordering pneumatic actuator assemblies. Specifying system modules as a complete package with a unique product key simplifies design, logistics and assembly operations.
---
06 March, 2015

Rotork Midland has introduced Smart-Loc, a new high-integrity modular concept for pneumatic actuator control assemblies. Constructed in 316L stainless steel, the Smart-Loc system is particularly suitable for the control and sequencing of process valve actuators in oil and gas applications.
---
06 March, 2015
New high power cordless tools that deliver the power and performance of an air tool while providing the mobility of a battery tool are being launched by Chicago Pneumatic. The new impact wrenches, impact driver and drill drivers offer superior power and battery performance for increased productivity, durability, ease of use and mobility.
---
24 September, 2014

Aventics might be a new name, but the company is anything but new to the pneumatics industry. Hydraulics & Pneumatics spoke with Stuart Cheyne, managing director UK at Aventics, about the company's current roadmap in terms of product development and extended market reach... Previously a subsidiary of Rexroth Pneumatics, Aventics has been acting as a standalone company since earlier this year, although for a limited transitional period the company will follow a dual branding strategy with its former owner. At the 2014 Hannover Messe, Aventics – which is incidentally headquartered in Laatzen in the same city as the event – celebrated its first major public appearance. Although the name might be new, the company's experience in the market is immense. Indeed, its history dates back to 1884, starting with the construction of the first pneumatics plant in Hanover. And with around 2100 employees worldwide, the Aventics brand has enjoyed a strong international position from the outset; with production sites in Germany, France, Hungary, the US, and China. The company's market coverage is also global, with a presence in over 40 countries. "It is interesting to reflect that as well as being the youngest mainstream company to enter the pneumatics market we are also already a company with one of the strongest market pedigrees; with sound employee expertise, long-term customer relations and a proven product range," said Stuart Cheyne, managing director UK. He added that this market standing is backed up by a highly proactive ongoing R&D programme focused both on innovation and responding to changing market needs as they occur. One of the company's recently launched product ranges is the new AV valve series. AV – short for 'Advanced Valve' – is major breakthrough in miniaturisation, combining the advancements in plastics processing with a new design concept. AV series valves are claimed to be half the weight of and over 50 per cent more compact than conventional valves of the same performance level. According to Aventics, machine manufacturers can reach compressed air savings of up to 20 per cent, and can achieve even more savings with the electropneumatic pressure regulator for application-specific pressure control within the AV system. The AV series features a modular design and is currently available in two flow rate sizes. It can be integrated into plastic control electronics in a wide range of automation environments and communicates with all common fieldbuses. Additionally, Aventics' PRA cylinder has been developed for maximum user convenience and time saving in mind. "With the cylinders' exchangeable nose seal this makes it unnecessary to take the whole cylinder apart to change the seal," explained Cheyne. Knowledge base Aventics has over 2100 employees globally, the majority of whom moved over from the previous company. "So we have many years of experience and knowledge within the organisation," said Cheyne. "As changes, such as a requirement for additional extra technical knowhow, or extra design or marketing support are called for, we have a very proactive strategy in place." he added. The UK team headed up by Cheyne comprises nine internal staff, including general manager, technical sales support and technical design staff. The company also has three external sales personnel and is further supported by a public relations and marketing company, Big Yellow, situated in the same building complex as the company's main UK headquarters in the Cirencester. Target markets In terms of target market segments, Aventics is already widely established in sectors such as food packaging, assembly & handling and general automation. However, the company is now also pursuing additional sectors including heavy industry and medical technology. "We have an ambitious roadmap in terms of extending our market reach, and ensuring we have just the right products to achieve this," Cheyne remarked. "We are also proud to be a specialist for niches, because that's where we can offer our customers clear added value with our experience and our products." Concluded Cheyne: "Our primary focus is on pneumatics; that's where expertise is. So we talk to customers we can talk competently with them regarding pneumatic technology and how to best use pneumatic technology within their specific applications, no matter what sector they might work in." www.aventics.com
---
20 June, 2014

Automation equipment supplier, Festo, has published a new whitepaper 'Cartesian handling systems – a technical comparison with conventional robots' to help engineers and designers understand the advantages and disadvantages of various handling systems, so they can increase the productivity and efficiency of their processes. The whitepaper is free to download from www.festo.co.uk/handling-whitepaper and gives a simple overview of Cartesian and kinematic handling systems, outlining the functional differences between various robotic solutions, as well as highlighting key factors and aids for selecting efficient and economic systems. "It is important to understand when to select Cartesian, Kinematic and SCARA assembly and handling solutions," said Nigel Dawson, product manager at Festo. "Cartesian systems may lose out on flexibility but they can be optimised for the application in hand, and importantly from a maintenance perspective, they can be assembled from standard parts making them a lot easier to maintain. Parallel rod, Kinematic solutions can be very fast but there are working envelope and payload restrictions. There is no one size fits all approach, each should be considered on their merits." Energy-efficient 2D and 3D Cartesian systems can be engineered easily and efficiently to linear and rotational applications. They can also incorporate pneumatic, electric, servo-pneumatic or a combination of technologies, achieving optimum movement in terms of efficiency, dynamic response and function, enabling engineers to improve productivity. To download the new whitepaper on handling systems, visit www.festo.co.uk/handling-whitepaper. www.festo.co.uk
---
20 June, 2014
SMC, provider of pneumatics, is proving to customers that it delivers a fluid, flexible and fast service with its universal 2 port fluid valve range. Recognising that automation occasionally requires non-pneumatic solutions, SMC has used its engineering and design expertise to develop a conventional range of fluid control valves. The broad range on offer – from compact and light designs to more complete solutions for medium flows and options for applications requiring zero differential pressure to large flows – is showcased in SMC's comprehensive brochure with technical data and parts directory plus an online 2 port valve selector. SMC's European fluid control project manager, Sebastian Fabio Agnello, commented: "We have an enviable global reputation for our pneumatics expertise but we do recognise our customers also require alternative, non-pneumatic options. Increasingly customers wish to work with one trusted partner so we've adapted our product lines to meet their needs and wrapped this up under the 'USE' concept; Universal valves for standard fluids, Specific valves, optimised for specific fluids and Expert valves for specific applications." He continued: "We also recognise that speed of delivery is essential, so our European Central Warehouse is well stocked with our valve range, guaranteeing immediate shipping." The universal range features two direct operated 2 port solenoid valves; the VDW10/20, is ultra-compact and ideal for air, vacuum and fluid handling and the VX2 series is suitable for high temperatures whilst being energy efficient and quiet to operate. Pilot operated solenoid valve options include the VXD series which is also highly efficient and the zero differential pressure, VXZ series. Alternatively, the robust air-operated VNB series is highly versatile and can handle large flows as well as retain reverse pressure. Supported by a range of specific and expert valves, SMC is now able to provide customers with a valve for any application in any environment. For more information about the 2 port fluid valve range, visit SMC's Product Section on the company's website. www.smcpneumatics.co.uk
---
30 April, 2014
The Festo Bionic Handling Assistant made an appearance at the London Science Museum's exhibition 3D: printing the future taking place in the Antenna – science news gallery during the Easter school holidays. The feature showcased innovation in this exciting field and explored future applications for products made through the additive manufacturing process. "The Science Museum is a fantastic place to visit for a family day out," said Steve Sands, product management and marketing manager at Festo. "The 3D: printing the future exhibition is demonstrating how innovators are using 3D printers to turn computer data into physical objects and how that is changing our lives. Being part of this exhibit also supports our continuing Tomorrow's Engineers work, where we network to help inspire young people into careers in engineering. Our designers developed the Bionic Handling Assistant concept using a selective laser sintering process to produce its complex bellow structures. The benefits of additive printing released the team from the restrictions of traditional manufacturing processes, enabling them to produce the complex but ultra-light weight handling arm." High flexibility Everything about the arm is optimised, reducing the number of individual parts to the absolute minimum. Despite the relatively hard polyamide material used, the design achieves a high degree of flexibility which, when combined, enables 13 axis of freedom – a crude approximation of the elephant's trunk that inspired the concept but a truly original idea for automation. "Why the focus on lightweight?" continued Steve Sands. "Because it explores the concept of people working closely alongside robotic arms reducing fatigue, increasing productivity or eliminating exposure to dangerous or harmful activities." Further information can be found at: www.festo.co.uk/press/sciencemuseum and www.sciencemuseum.org.uk
---
29 April, 2014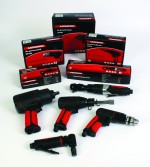 As an integral part of its on-going exclusive brand development programme, Flowtechnology UK has launched AeroPro; a new range of Pneumatic Power Tools available to the UK market.
---