SMC at EMO Hanover 2019
21 November, 2019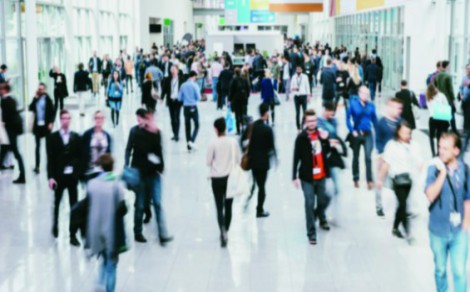 EMO 2019 in Hanover, the trade fair for metalworking, was held from 16 to 21 September. As a leading manufacturer, partner and solution provider for pneumatic and electrical automation technology, SMC presented its extensive product portfolio at the event where it demonstrated the innovative applications of the future.
Minimising assembly time, intelligent communication and maximum flexibility are key focuses today. In addition to its brand new two-speed valves – claimed by the company to be a world first – SMC showed its ISE70/71 series digital precision pressure switches and compact EX260 field bus systems.
Safety is also a priority in the world of Industry 4.0. SMC has therefore designed a completely new type of two-speed valve with which all common machine operating modes can be safely implemented, from set-up to maintenance. The VZM5-300-CEW20057 series valve combines the operational and safe reduced mode into one component. In addition, the new two-speed valve reliably detects the valve position and transmits it via a fail-safe signal to the higher-level safety PLC - for even greater reliability in man-machine cooperation.
The acquisition of process data is playing an increasingly important role in intelligent metalworking. For this reason, SMC has now for the first time equipped its ISE70/71 series digital precision pressure switches with IO-Link technology. The intelligent sensors report current pressure values of up to 1.6 MPa, the status of the switching output and important diagnostic information and error warnings to the PLC. The two-line display of the precision pressure switches can be rotated by up to 336° and display setpoint (limit value), hysteresis value, maximum or minimum value and delay time, depending on the user's requirements. With its persistent memory, the ISE70/71 series also reliably backs up its collected data even if the power supply is interrupted.
All information converges in one system via the fieldbus. This is now easier and saves more space with the EX260 series fieldbus systems. The proven entry-level models are now also available with IO-Link technology, allowing them to communicate bidirectionally. This enables them to forward any number of parameters of the connected valves to the higher-level control level. Due to their slim design with a width of only 28 millimetres per unit, the EX260 series systems can be easily installed even in tight spaces. In addition, different valve sizes are possible on one sub-base. In addition to IO-Link, the protocols Profibus, Profinet, DeviceNet, Ether/Net-IP and Powerlink, as well as Modbus and CanOpen, are also available to users.
---