Secondary suspension products for rail sector
16 April, 2020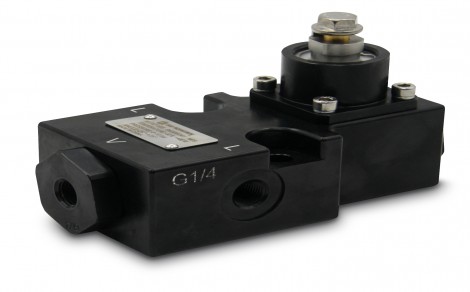 IMI Precision Engineering has added three new products to its IMI Norgren rail specific secondary suspension portfolio, further enhancing its 'one-stop shop' capability for its rail customers.
The new trio of IMI Norgren products consists of a mechanical levelling valve, together with complementary average load valve and double check valve solutions. All of which provide outstanding lifecycle performance, flexible installation and ongoing maintenance and cost reductions, helping to drive improved operational efficiencies.
Secondary suspension mechanical levelling valve
Following in-depth industry research, IMI Precision Engineering has developed a robust and high performing mechanical levelling valve with reliable repeatability over its life proven through extensive testing and validation, which will enable extended maintenance periods to be implemented by the operator. The mechanical levelling valve offers a guaranteed solution when it comes to the inflation and deflation control of the suspension bellows to ensure the car is kept level under changing load and track conditions.
Secondary suspension average load valve and double check valve
Complementing the performance of the mechanical levelling valve are the IMI Norgren average load valve and double check valve (also known as a compensation valve). Both offer additional functionality not currently found on the market, for example:
■ The inclusion of pneumatic pressure test ports on the double check valve, a safety-driven function that allows for quick and safe system pressure checks for maintenance personnel.
■ The addition of an electronic pressure sensor function on the double check valve that can provide instant feedback on the pressure status of the train system, allowing adjustments to be made to the braking systems when required.
■ The provision of either flange or directly ported versions for the average load valve.
Chris Showering, global product manager, rail, at IMI Precision Engineering, says: "The development of these three new products to our portfolio enables us to offer a comprehensive range of secondary suspension products which also include our VT ball valve range, 19S pressure sensor and LVP50 proportional control valve.
"Robust, proven and helping to support more efficient maintenance regimes, the levelling valve, alongside the double check and average load valves, provide cost-effective, safe, long-lasting and reliable solutions for an essential part of the train operation and also help to positively influence the travelling experience for passengers."
---