Up to 70% energy savings thanks to modern vacuum technology for material feed
31 January, 2020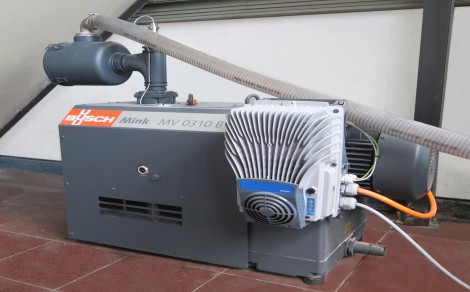 As a manufacturer of soft PVC rolls, sheets and web material, Jedi Kunststofftechnik GmbH has focused its production specifically on the processing of soft PVC. The material is fed from the delivered big bags to the extruders via a pneumatic suction conveying system. Vacuum generation in the conveying system has now been redesigned and implemented. Since the beginning of 2018, Jedi Kunststofftechnik has had frequency-controlled Mink claw vacuum pumps in operation, which are much more energy-efficient than the side channel blowers previously used. This has  reportedly enabled the energy consumption for vacuum generation to be reduced by up to 70%.
Marco Di Martino founded Jedi Kunststofftechnik in Eitdorf, North Rhine-Westphalia, in the mid-1990s and specialised in transparent soft PVC semi-finished products. Today, his company employs 40 people and is one of the leading international manufacturers of soft PVC rolls, sheets and webs. These are processed by his customers into strip curtains or floor protection mats and flexible viewing windows on roller shutters or tents. Products manufactured in three-shift operation are supplied to customers throughout Europe in material thicknesses of one to twelve millimeters and a maximum roll width of 2200 millimeters.
Production takes place on five extrusion lines with single-screw extruders. The material is fed from the big bags via volumetric dosing systems and dryers to the extruders via suction conveying systems. In the past, four side channel blowers were installed on the four extrusion lines to generate the necessary vacuum on the conveying system. High failure rates due to bearing and engine damage as well as tarnished blade wheels made the side channel blowers unreliable vacuum generators.
Unregulated
The four side channel blowers had a power requirement of between 12.5 and 15 kilowatts, depending on their size. Their operation was unregulated, i.e. the blowers ran continuously in three-shift operation. In terms of energy consumption and reliability, this was an extremely unsatisfactory solution for owner Marco Di Martino. The high noise level emanating from the blowers in the production hall also caused considerable disturbance.
Marco Di Martino has now had two Mink MV 0310 B claw vacuum pumps (Fig. 1) in operation since the beginning of 2018, replacing the four side channel blowers previously installed. While the four side channel blowers consumed a total of 55 kilowatts, the Mink claw vacuum pumps only require 8 kilowatts each at 50-Hertz operation. Jedi Kunststofftechnik has installed another Mink MV 0310 B with the start-up of a fifth extrusion line.
---
AIR-TECH EXHIBITION


16 April, 2024, 9:30 - 18 April, 2024, 4:00




Hall 9, the NEC, Birmingham, UK

FLUID POWER & SYSTEMS EXHIBITION


16 April, 2024, 9:30 - 18 April, 2024, 4:00




Hall 9, the NEC, Birmingham, UK