Reflections on half a century in the industry
31 October, 2019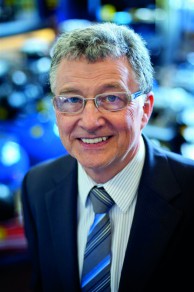 Ross Gowler, marketing & engineering director at Thorite, who joined the company in 1969 as an apprentice service engineer, is about to take his retirement. In this interview, he looks back at the ways the pneumatics market has evolved over the past 50 years.
During and just after serving your apprenticeship, you were servicing compressors and pneumatic systems. Who were the major industry players at that time and what was the attitude of Thorite's customers towards maintenance and servicing?
In 1960, whilst pneumatic automation was still in its infancy the company decided to start a new company in Leeds totally dedicated to pneumatics and compressed air named Thorite Pneumatics Ltd. This was the company that I joined just nine years after its formation. These were exciting times because we really were the first distributors of pneumatic products. The 'household' names in those days were the likes of Norgren, Enots, Martonair, Maxam and Schrader. On the compressor side, were Ingersoll Rand, Broome Wade, Atlas Copco and a then fledgling company called Hydrovane. Throughout my apprenticeship and, for a while after, I was servicing compressors and building control panels. Those control panels often comprised of heavy brass control valves connected via half-hard copper pipe. Regarding servicing, many customers were yet to realise the potential of compressed air and would run compressors until they broke down; in some cases, catastrophically and sometimes almost setting fire to the property. I'm pleased to say that is no longer the case and customers place a much higher value on ensuring reliability and performance.
It's generally considered that the so-called Digital Revolution began in the late 1950s. However, during the decade between 1980 and 1990, industry awoke to the notion that 'New Technology' could play a massive role in the way that machines and ancillary equipment were designed. How did this effect the pneumatics industry?
This was a major leap forward and worthy of an article on its own, but just take control panels as an example. Depending on the process, a control panel could be huge. Machine manufacturers were now looking at ways of reducing size and weight. With the introduction of those early Programmable Logic Controllers (PLCs) suddenly we were able to not only reduce the physical size of the control panel, and drastically reduce the weight, but to make complex operations much easier to perform. As an aside, we designed, built and marketed our own programmable logic controller the Pneutron control panel with sixteen inputs and sixteen outputs. Pretty tame by todays sophisticated standards but game changing then.
How did the pneumatics manufacturers change or adapt their marketing strategies to reflect the opportunities that new technology provided?
The manufacturers certainly spent much more on marketing and research & development. As our customers shifted across from the old repetitive/manual ways to digital and pneumatic systems, our suppliers were regularly introducing new products and systems. In the compressor market in the mid-1980s, screw compressors were introduced and these practically revolutionised compressed air generation overnight. Now a factory could run on compressed air 24 hours a day, 365 days a year with compressors capable of running 24/7 continuously and needing nothing more than routine maintenance. Now, in the right applications variable speed drive compressors are market leaders in terms of energy efficiency; words that would never have been used to describe compressors thirty of forty years ago.
What do you see as being the most important development in compressor design over the past 50 years?
Without a doubt, reliability and energy efficiency. With the ever-higher cost of energy, the demand for carbon footprint reduction and the need to consider our environmental impact current and future compressor design will continue to be the primary for compressor manufacturers in years to come. With the pace of those design changes customers can often pay for new compressor kit out of those energy savings.
---
AIR-TECH EXHIBITION


16 April, 2024, 9:30 - 18 April, 2024, 4:00




Hall 9, the NEC, Birmingham, UK

FLUID POWER & SYSTEMS EXHIBITION


16 April, 2024, 9:30 - 18 April, 2024, 4:00




Hall 9, the NEC, Birmingham, UK