Manual flow control option now available for V-Notch ball valves
13 May, 2020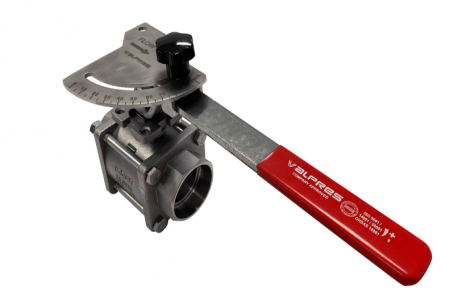 In addition to widely used electric or pneumatic actuation, Bonomi (UK) Ltd can now offer a manual flow control device for use in conjunction with much of its Valpres V-Notch ball valve range.
While many users still elect to use Valbia's pneumatic or electric actuator with positioner, the new manual, stainless steel device offers an alternative, simply calibrated method, which is claimed to allow precise and accurate flow control to be achieved.
The manual flow control device is compatible with most of Valpres's VNotch ball valves including 2-piece and 3-piece ball valves, wafer pattern ball valves and split body flanged ball valves of both carbon steel and stainless steel construction.
Equally suitable for liquids and gases, Bonomi's V-Notch solutions make it possible to transform from an on-off ball valve, into a regulation/control one, with flow rate regulation ratios ranging up to 500:1.
Bonomi (UK) comments that excellent versatility means virtually any customer requirement can be catered for using Vball's V30-60, V60 and V90 patterns.
---