Vexve X valve with integrated press fit now available through Ultravalve
30 June, 2020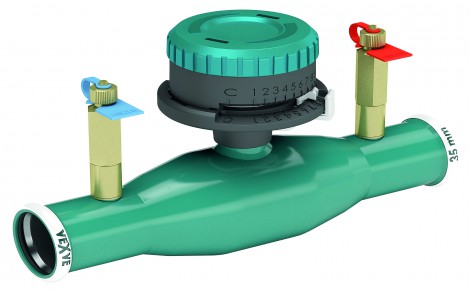 Valve specialist Ultravalve, has been given exclusive UK distribution rights for Vexve's newly launched Vexve X valve range. The valve range is claimed to be the industry's first ever complete product range of shut-off and balancing valves to feature integrated press fit connections.
Designed for heating and cooling network applications in buildings, the Vexve X is the result of long term, customer-focused development from the Finnish valve specialist, whose UK sales have been handled exclusively by Ultravalve Ltd for the past four years.
The extensive Vexve X range features shut-off and balancing valves in both carbon steel, (suitable for use with EN 10305 thin-walled pipes) and stainless steel (suitable for use with EN 10312 thin-walled stainless steel pipes) in diameters ranging from 18mm to 54mm and is compatible with both M and V profile jaws.
The carbon steel Vexve X range is identifiable by its turquoise body and is designed for clean media such as oxygen-free water or water-glycol mixtures, whilst the stainless steel version is grey and also designed for clean media in many industrial systems such as process waters, ethanol, methanol, water-glycol mixtures or Freezium.
Cost efficiency
Cost efficiency is achieved over the entire product life cycle since integrated press fit connections significantly reduce the number of parts needed and work phases required, whilst also reducing the risk of leakage.
The breadth of the range means that uniformity can be achieved by using purely Vexve X shut-off and balancing valves across an entire project, eliminating the need to use a selection of different manufacturer's valves, with differing features, performance and application properties.
The optimised stem construction of Vexve X achieves modern insulation standards, breaking any cold bridge or heat bridge from the valve body, whilst ready-to-use form-cast insulation minimises heat loss and further speeds up installation.
Easy to remove
The handle and control knob of Vexve X are made from composite making them easy to remove with no requirement for separate tools, whilst lockable settings allow easy adjustment and temporary shut-off without the need for re-measurement. The QR code is located in the valve handle, giving users easy electronic access to up to date product information and operating manuals.
---