The advantages of auto-cushioning pneumatic cylinders
29 August, 2019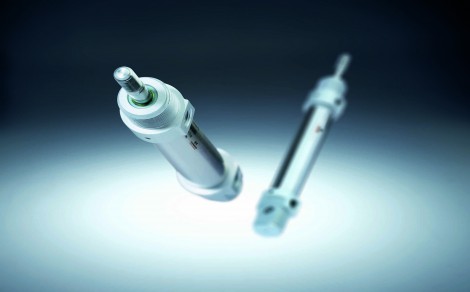 In the industrial world, the primary goal is often to boost productivity whilst reducing costs. Pneumatic cylinders in particular are gaining wider acknowledgment as being durable enough to withstand harsh environments alongside providing a high level of performance at a competitive rate. However, they often require running actuators as fast as possible without introducing excessive shock or vibration to products and equipment which can become demanding.
Due to operating at a higher speed and with potentially increased loads, engineers generally use an air cushion to avoid any lasting damage to the cylinder. The issue is that the manual adjustment of these end-position cushions require time.
Experienced maintenance technicians are required to adjust the air-cushion valves, depending on the cylinders operating pressure, speed and load. Once these parameters are changed, the air cushions then need to be reset for each job in order for the machine to run efficiently.
Manually adjusting the air cushion is not only time consuming but it can put pressure on the technicians to complete the task as quickly and efficiently as possible, as well as incurring unnecessary production costs.
With the introduction of a new type of air cushion which automatically adapts to changing conditions, the headache of manual adjustments is eliminated and productivity is increased, ultimately reducing maintenance costs.
Camozzi Automation's Series 23 pneumatic cylinders embrace 'auto-cushioning'.
Self-adjusting
The 'auto-cushioning' system works the same as many conventional cushions, except instead of a needle valve, the air is exhausted with the use of shaped sleeves that have a number of holes accurately positioned with precisely set dimensions As the system adapts to various combinations of speed and applied mass, the self-adjusting cushion is a 'fit-and-forget' feature. Eliminating the need to regulate settings, the Series 23 pneumatic cylinders are ultimately tamperproof, offering a long, maintenance-free service life.
Whilst the cylinder benefits from a smooth, jolt-free movement, the reduction in vibrations and noise is also noticeable. Despite appearing less intrusive, the cushions guarantee higher reliability and constant performance over time.
If the parameters such as friction and pressure change, the self-adjusting cushions ensure proper deceleration every time. Reducing the acceleration forces acting on components and workpieces, the appearance of wear and tear is reduced and time-consuming vibration is minimised.
The series 23 is suitable for use in many industrial applications, especially if working conditions vary. Reducing the installation and commissioning times, the 'auto-cushioning' system provides a cost-effective alternative to manually adjustable cylinders.
---
AIR-TECH EXHIBITION


16 April, 2024, 9:30 - 18 April, 2024, 4:00




Hall 9, the NEC, Birmingham, UK

FLUID POWER & SYSTEMS EXHIBITION


16 April, 2024, 9:30 - 18 April, 2024, 4:00




Hall 9, the NEC, Birmingham, UK