Kinetrol extends its product range with the addition of the Model 60
13 March, 2020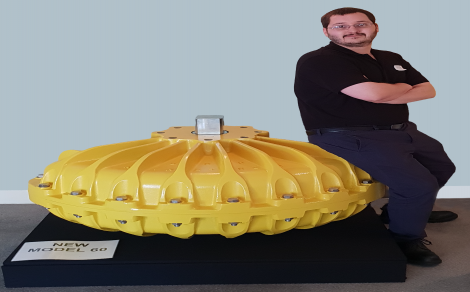 Kinetrol Limited, the UK manufacturer of quarter-turn pneumatic actuators, has further increased its product portfolio with the introduction of the Model 60.
The new unit, which joins the wide range of actuators already manufactured by Kinetrol, increases the company's torque output coverage to over 40,000 Nm (350,000 lbf.in).
The Model 60 is currently the largest actuator in the Kinetrol collection, adding to the 16 units already available, starting at 0.1 Nm. The unit is a single vane actuator, giving 'direct drive' rotary control. The one moving part construction minimises side loading, eliminates axial loading and increases life expectancy.
Extended life
The Model 60 also utilises Kinetrol's preloaded, double-opposed, polyurethane lip seal and air consumption reducing/energy absorbent side plate technologies. This, coupled with a new end-stop design, extends the actuator's life, reduces its energy consumption and maximises its operating speed.
As with their existing actuator range, the new Model 60 benefits from Kinetrol's popular modular concept of control accessories. This allows the customer to choose from a range of options such as the AP (pneumatic), EL (electropneumatic) and DP3 positioners, safe and hazardous area limit switch boxes and the company's distinctive clock-type spring fail-safe packs.
Expanding into new markets
Geoff Burton, sales and marketing manager at Kinetrol, said 'This new addition to the Kinetrol range will allow us to expand into new markets, offering customers an alternative actuator solution for their larger valves with all of the proven benefits of Kinetrol's quarter turn rotary design. The new unit is subjected to our rigorous quality and test procedures and carries a guarantee for up to 1 million cycles'.
Compared to traditional actuator types of this size, Kinetrol's Model 60's output torque, in double acting applications, is uniform across its operating cycle, facilitating more optimal sizing and providing a very compact solution. In addition, Kinetrol's spring design, for single acting applications, results in much lower torque output losses - further enhancing compactness and eliminating spring fatigue failure.
New-look catalogue
A technical data sheet for the new Model 60 is available on the company website. The unit will also feature in the company's new look product catalogue, which gives complete technical details on the full range of Kinetrol products - to be published in January.
Further information is available from Kinetrol and its extensive worldwide network of subsidiaries and distributors.
---
AIR-TECH EXHIBITION


16 April, 2024, 9:30 - 18 April, 2024, 4:00




Hall 9, the NEC, Birmingham, UK

FLUID POWER & SYSTEMS EXHIBITION


16 April, 2024, 9:30 - 18 April, 2024, 4:00




Hall 9, the NEC, Birmingham, UK