27 September, 2017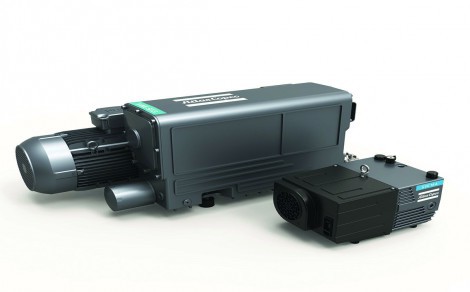 By Richard Oxley, vacuum product manager for Atlas Copco UK.
---
25 August, 2017
Compressor and vacuum pump manufacturer, Gardner Denver, has appointed Charles Joel as its new global Internet of Things (IoT) and analytics director. He will be responsible for shaping the digital transformation of Gardner Denver and developing the company's 'iConn' IoT platform for connectivity and analytics.
---
23 August, 2017

Atlas Copco has extended its range of variable speed driven vacuum pumps with the addition of three models offering flow rates up to 5004 m3/h. The new GHS 3800-5400 VSD+ rotary screw pumps are particularly suited for large industrial vacuum users in the UK's glass, plastics, canning and food packaging industries. Companies in these sectors stand to reduce their energy consumption by up to 50% if they upgrade their existing centralised vacuum systems or switch from using multiple, decentralised point-of-use pumps to a central vacuum system based on one or two super-efficient GHS VSD+ machines.
---
23 August, 2017
A state-of-the-art variable speed air compressed air system from Boge is saving money and energy at celebrated pottery manufacturer Emma Bridgewater's busy factory in Stoke-on-Trent.
---
23 August, 2017
SPX Flow has introduced the new FLEX Series energy saving refrigerated air dryer by Hankison. SPX Flow comments that the FLEX Series refrigerated air dryer utilises the latest advancements in heat transfer technology, and offers an innovative approach to efficiently remove liquid from compressed air. The company adds that the high-performance unit uses Phase Change Material (PCM) to achieve substantial energy savings, with a potential return on investment of one to two years.
---
16 June, 2017
Gardner Denver's vacuum & blowers sales manager, Gareth Topping, has taken up a new role as chair of the British Compressed Air Society's (BCAS) low pressure and vacuum working group.
---
16 June, 2017

Ingersoll Rand has introduced new models to its line of Next Generation R-Series oil-flooded rotary screw air compressors, which provide a more energy-efficient solution for customers with high capacity air requirements.
---
16 June, 2017

Gardner Denver has launched Ultima, a new, water-cooled oil-free compressor from its CompAir brand, offering up to 12% improved energy efficiency compared to a conventional two-stage machine with a 37% smaller footprint. Launched as part of the company's CompAir PureAir range, Ultima is available in models from 75 kW to 160 kW and is designed for best-in-class performance, for applications that demand the highest levels of air quality and purity.
---
16 June, 2017

A tiny air compressor that was first developed for space travel has been adapted for commercial applications on Earth by Edinburgh-based manufacturer Vert Rotors. The Vert.04.W compressor – which is barely bigger than the face of a wristwatch – is claimed to be the world's smallest high-pressure and low-vibration clean air compressor.
---
16 June, 2017

Rotary vane compressor manufacturer Mattei has released a whitepaper revealing the inaccuracies of the current Life Cycle Cost (LCC) calculation for air compressors.
---
13 April, 2017

Steve Lindsey, CEO, Lontra, considers the efficiency and cost-saving benefits of cutting-edge blade compressor technology for energy-intensive industries such as cement.
---
13 April, 2017
Aeration tanks for wastewater treatment must be continuously provided with large air volumes, and turbo blowers can offer an energy efficient solution. Aerzen has developed a simple method for fast-rotating turbo blowers – air bearings.
---
13 April, 2017

Gast – the designer and manufacturer of precision air products and member of the IDEX Corporation – is introducing a new range of vacuum pumps and compressors to its extensive portfolio. These new products are simple in operation, robust and an effective source of compressed air. The three pump and compressor ranges include 16 oil-free and oil-lubricated rotary vane models and, in a first for the organisation, four claw pump models.
---
13 April, 2017
Arnold Magnetic Technologies is a global manufacturer of high performance magnets, precision magnetic assemblies and thin metals. Arnold has thousands of customers in markets from consumer, industrial, medical, aerospace, and telecommunications. Arnold's magnets, metals and systems are used in high-efficiency motors, batteries, and solar panels, and on commercial aircraft.
---
13 April, 2017

Vacuum and pressure manufacturer, Gardner Denver, has launched the CFT range, a compact modular filter designed to ensure the highest quality, oil-free air for sensitive production environments.
---