Atlas Copco's new range of GHS VSD+ vacuum pumps offer intelligent networking of vacuum pump and process
14 July, 2022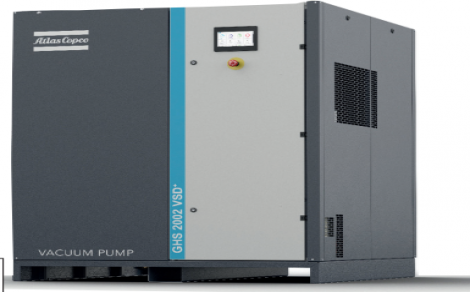 Building on the GHS VSD+ range of variable speed-driven oilinjected screw vacuum pumps, Atlas Copco has introduced the new GHS 1402-2002 VSD+ series. These series of pumps have a new design for better performance, optimal oil separation, a smaller footprint and a new controller which puts the customer in gear for Industry 4.0.
Sustainable, powerful, forward-looking
With the GHS 1402 - 2002 VSD+, vacuum manufacturer Atlas Copco is launching a new model of speed-driven screw pumps in three pumping speed classes. In rough vacuum applications, the oil-injected pumps deliver a continuously high pumping speed - from atmospheric pressure to ultimate pressure. Product manager Yuri Vanderveken, comments: "The GHS 1402-2002 VSD+ features the new Atlas Copco oil-injected screw element. It's innovative compression optimisation valves allow for high pumping speeds at rough vacuum." This makes them suitable for use in central vacuum systems, for vacuum cooling, for the production of food packaging and thermoformed plastic components as well as for vacuum chambers for altitude simulation.
Vanderveken continues: "This is also a forward-looking pump. It is equipped with HEX@TM, Atlas Copco's new vacuum controller, making this pump ready for Industry 4.0. With a new control system, users of the speed-driven pump type are also well equipped for the comprehensive digitalisation of industrial processes."
Higher vacuum performance, lower consumption
Compared with the previous models, the design of the three models GHS 1402, GHS 1602 and GHS 2002 VSD+ results in better vacuum performance, a 15% smaller footprint and longer maintenance intervals. The footprint of the GHS 1402-2002 VSD+ is smaller than 2 square meters. The design is compact due to the vertical drive train design.
The new GHS VSD+ screw pump also contributes significantly to saving energy costs. This is based on the one hand, on the combination of the Neos inverter with a setpoint control. This means that the GHS 1402-2002 VSD+ deliver exactly the pumping speed required for the respective process. Moreover, an energy recovery system helps recover up to 80% of the power in the form of hot water. In addition to saving costs and water, this also results in lower CO2 emissions.
High efficiencies at all speeds and demand levels
The increased efficiency is also due to the new permanent magnet motor. In its IE5 efficiency class, it has high efficiencies and produces an increase in efficiency of about 2% over the entire speed range. "This new technology ensures higher efficiency at all speeds when compared to classic motors. These new motors are oil-cooled, with oil lubricated bearings that provide optimal cooling at any speed," elaborates Vanderveken.
https://twitter.com/atlascopcogroup
https://www.linkedin.com/company/atlas-copco/
---
AIR-TECH EXHIBITION


16 April, 2024, 9:30 - 18 April, 2024, 4:00




Hall 9, the NEC, Birmingham, UK

FLUID POWER & SYSTEMS EXHIBITION


16 April, 2024, 9:30 - 18 April, 2024, 4:00




Hall 9, the NEC, Birmingham, UK