Rotair appoints UK & Ireland sales leader
31 January, 2023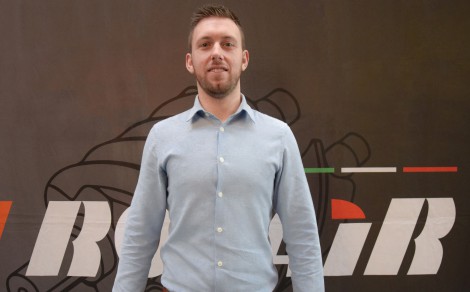 Rotair S.p.A., has announced the appointment of its first UK and Ireland sales leader, Christian (Chris) Vaughan (pictured) to oversee the region's growth strategy.
Rotair S.p.A., is a leading company in the design, manufacture and distribution of high technology portable air compressors, multi-functional dumpers and hydraulic breakers and a brand of ELGi Equipments.
Having grown significantly in key European markets including Italy and Spain in the past two years, the company is now focused on achieving its ambitious growth plan for the UK and Ireland. The company's three-part growth strategy in the region includes increasing the number and market coverage of dealers, growing its sales for the rental market and increased sales across its entire range of portable compressors and hydraulic breakers.
"We are honoured that Chris has joined the Rotair team with a remit to strengthen our presence in the United Kingdom and Ireland by building strong customer relations and a strengthened dealer network," said Giuseppe Donadio, managing director of Rotair S.p.A. "Chris' appointment comes amid and will reinforce an exciting growth period for Rotair in the UK and Ireland in the past two years, especially of our VRK Fibre and Fibre Plus units which are specifically conceived, designed and manufactured for fibre optic cable laying."
The company says Vaughan's proven track record in customer relations and sales growth and more than a decade working in the construction sector will prove pivotal to the company's UK and Ireland growth strategy. He specialises in customer engagement, business development and people management and has built his career on establishing and maintaining a loyal client base through understanding and delivering on customer needs and building strong personal relationships.
"I'm excited to be able to bring my skills and experience in construction and business development to achieve ROTAIR's ambitious growth strategy for the UK and Ireland," said Vaughan, sales leader UK and Ireland. "Growing our entire UK and Ireland sales base with a focus on actively growing our dealer base and tightening our customer relationships, particularly in civil engineering, construction, sandblasting, fibre optics and the agricultural sectors will be key to our success."
The announcement builds on a series of new appointments in the company, accelerating growth across its key markets and industries. In 2022 alone, the company appointed new leaders for sales in France and Spain with consequent growth in dealers and product sales in those countries.
https://www.linkedin.com/company/rotair-spa/
---