09 October, 2015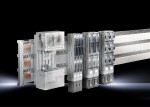 RITTAL says protecting people who work with electrical switchgear is of paramount importance and says it addresses all considerations within its busbar system "Ri4Power 185mm" and its new (Version 6.3) of the Rittal Power Engineering software.
---
09 July, 2015
COLFAX FLUID HANDLING, a business of Colfax Corporation reports it introduced and demonstrated the latest version of its Smart Technology CM-1000 Series smart controller for seawater cooling systems at Nor-Shipping in Oslo, Norway. The company says the CM-1000 adjusts the flow rate of sea water pumps based on the temperature of the ship's fresh water and current cooling requirements, thereby saving significant energy.
---
29 May, 2015
RITTAL reports it has launched a new EC Speed Control, compatible with larger models from the TopTherm EC fan-and-filter unit range (uninstalled air throughputs between 180 m³/h and 900 m³/h).
---
22 May, 2015
With the launch of the PAC50, SICK says it is introducing a specially-developed pneumatic pressure sensor for improved air pressure monitoring with an at-a-glance display to provide clear warnings of crossing pressure thresholds within a target range.
---
16 April, 2015
RITTAL reports there are many and varied benefits to automation which a large number of industry sectors have clearly embraced.
---
06 October, 2014
Kiesling Maschinentechnik, a member of the Friedhelm Loh Group, is a specialist for automation solutions in switchgear manufacture. After a five-year development period, the Averex, reported to be the world's first robotic wiring centre is production-ready. But first, two real-world field tests will be conducted in the second half of 2014.
---
03 October, 2014
HI-LINE INDUSTRIES says its extensive range of compressed airline equipment has been extended to include filter element housings with 1/4" BSP connections. The company reports these products complement its existing wide range of aluminium filter housing with connection sizes now covering from 1/4" up to 4" BSP, offering a throughput flow range from 20 up to 1700 cfm. For larger flow rate patterns, then a range of flanged steel filter housings can also be supplied for flow rates up to 15,000 cfm.
---
29 August, 2014
TOM PARKER LTD, UK pneumatic and hydraulic specialist believes its latest catalogue can offer the answer to the challenge to source a fluid power distributor who is able to supply innovative solutions across the board to suit all project budgets.
---
29 August, 2014
UK fluid power distributor TOM PARKER LTD has announced an expansion to its range of filters, regulators and lubricators (FRL) from Master Pneumatic Inc. (MP) who began life as a parts supplier to the automotive industry.
---
22 August, 2014
FILTERTECHNIK has announced its First Aid for Oils initiative. The company says its new catalogues details how it specialises in the diagnosis of oil issues, the treatment or remedial action required and the on-going maintenance to ensure oil remains in a healthy condition.
---
22 August, 2014
A new web site has been launched which is set to help improve the health, safety, performance, and economy of a wide range of industrial, construction and agricultural equipment.
---
08 July, 2014
BFPA CEO, Chris Buxton, describes a new initiative to address current training deficiencies in the Fluid Power sector. For some time, the British Fluid Power Association, its Directors and its members have recognised the absence of any formal regulation relating to the qualifications of those engineers, technicians and operators embarking upon work in either the Hydraulic or Pneumatic technology sectors. i.e. an equivalent to the Gas Safe Register (formerly known as CORGI) for operatives working with gas appliances.
---
11 June, 2014
The overriding majority of valve actuation applications in today's industries are fulfilled with standard products. In some cases an actuator may need to be modified to suit specific operating requirements, but here again a solution based on a standard product can usually be found. There are occasions, however, when the physical and operational demands of an application rule out anything other than an entirely customised approach to the problem.
---
11 June, 2014
A NOV MONO Sun-Sub solar pumping system is helping reduce water and power consumption costs at a major logistics warehouse in China. The Mono equipment draws water which is used to clean the tyres of trucks entering the DB Schenker Logistics warehouse in Jiangsu province.
---
11 June, 2014
HYDROTECHNIK has launched its new extended range of universal nitrogen gas charging kits for accumulators, dampers, fire suppression and other pneumatic or gaseous systems.
---