27 June, 2019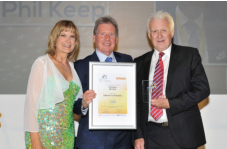 Phil Keep of MP Filtri UK Ltd was the winner of this year's BFPA Lifetime Achievement award which was presented at the third annual MCI Awards ceremony at the National Conference Centre in Birmingham on 22 May 2019, by Peter Willson, ex-BFPDA Council Chairman and Managing Director of Hopespare Ltd.
---
27 June, 2019
P54 Guidelines to the Pressure Systems Safety Regulations 2000 and their Application to Gas-loaded Accumulators – Issue 5:2019 have been revised and updated by BFPA's TC1 Accumulators Committee. This document give advice to users regarding the requirements of the Regulations and its aim is to help 'competent persons' decide upon the required frequency of examination.  Main amendments are:
---
27 June, 2019
Our P56 Engineer's Data Book is an essential quick reference guide for fluid power designers and users associated with hydraulic or pneumatic systems. The booklet includes the most commonly used graphic symbols, formulae and referenced National and International standards in addition to a wealth of other useful technical information. Available at a special price of £3.30 to members and £6.60 to non-members from the BFPA website www.bfpa.co.uk/publications
---
27 June, 2019
Members News
---
17 May, 2019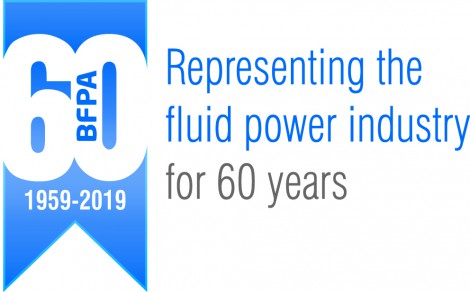 By Sarah Gardner, The British Fluid Power Association.
---
17 May, 2019
Abdex Hose & Couplings Ltd moved premises in March to: Unit 10a Clarke Road, Bletchley, Milton Keynes MK1 1LG, Beaumanor Engineering Ltd celebrates its 45th anniversary this year and Linde Hydraulics Ltd has appointed Simon Fantom as its new general manager.
---
21 March, 2019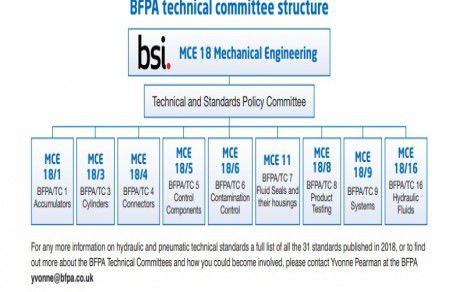 BFPA member satisfaction surveys over the years have repeatedly shown how valuable our members believe the BFPA technical standards development work is to the industry, and for some it is the main reason they are members. 2018 was yet another successful year for the various BFPA Technical Committees, which were responsible for the revision, development and publication of no less than 31 technical standards relating to fluid power.
---
21 March, 2019
New Members
---
01 February, 2019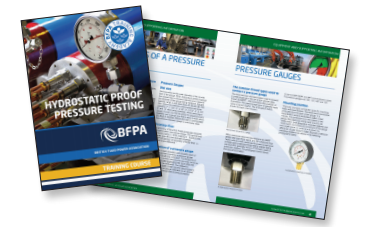 The new one-day BFPA Hydrostatic Proof Pressure Testing course will be available in 2019 and is the latest addition to our industry recognised programme of short training courses.
---
01 February, 2019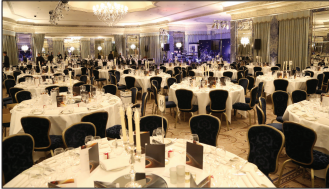 2019 sees the BFPA reach its 60th anniversary and to celebrate this landmark year, we are delighted to announce that we will be returning to The Dorchester for the BFPA 60th Anniversary Dinner and Ball on Friday 21st June.
---
01 February, 2019
New Members
---
06 December, 2018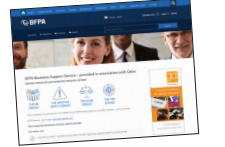 BFPA has launched a brand new membership service called the 'BFPA Business Support Service' which will operate across four primary areas; Human Resources, Legal, Health & Safety and Tax. Just staying on top of your core business operations can be challenging enough without the burden of having to manage these unwelcome but essential, non-core activities. The new BFPA Business service is targeted at easing much of that burden and will do so absolutely free of charge to BFPA and BFPDA members. Members will now have access to a dedicated BFPA Business Advice Line – one number with four options covering: HR/employment, health & safety, legal, tax and VAT. Features of the new service include:
---
06 December, 2018
BFPA has published a new position paper PP1 "Hose Re-Ending" on the BFPA website under "Technical Articles". The paper essentially explains BFPA's very clear position which is: "The BFPA's position is that hose(s) shall not be re-ended". The view of BFPA's industry experts, backed up by technical standards in the field, is that "it isimpossible to know whether an original hose has been stretched, crushed, degraded by sunlight or damaged by chemicals, the hose assembly safety, therefore, cannot be guaranteed if a new end is fitted on a used hose." To read the full position paper, please visit www.bfpa.co.uk/technical/technical-articles
---
06 December, 2018
2019 is an exciting year for BFPA as we will be celebrating our 60thbirthday! Preparations are already in hand to mark this significantmilestone in the trade associations' history.
---
06 December, 2018
Members News
---