Nigel Moorcroft wins BFPA award in recognition of technical work
25 September, 2020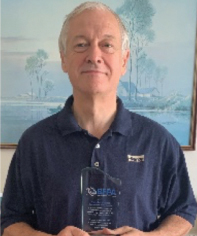 Nigel Moorcroft was the winner of this year's BFPA Award for Recognition of Technical Work contribution announced at BFPA's virtual AGM held on 27 August 2020.
Nigel is Chief Engineer (Cylinder and Accumulator Division Europe) for Parker Hannifin Manufacturing Limited and has long been associated with the BFPA.
For the last 17 years he has sat on three of BFPA's Technical Committees and contributed to the development of technical standards for: TC 1 Accumulators, TC 3 Cylinders and TC 7 Fluid Sealings and their housings.
Hans Waltl, President of the BFPA, announced the winner at this year's virtual BFPA and BFPDA AGMs and commented:
"I am delighted to announce that Nigel Moorcroft has won the 2020 BFPA award this year for his valued contribution to BFPA's technical committees. On behalf of the BFPA, I would like to thank Nigel for his seventeen years of generous dedication and technical expertise, and Parker Hannifin for its support of BFPA's technical standards development work. Thank you and many congratulations Nigel, from the BFPA and the fluid power industry."
---