David Phillips wins BFPA's 2018 Lifetime Achievement Award
08 May, 2018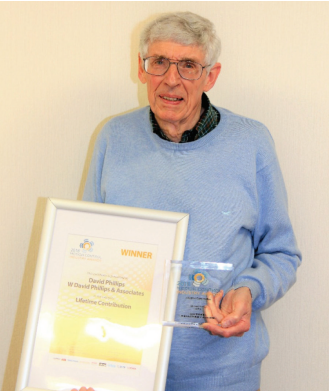 David Phillips was the winner of this year's BFPA Lifetime Achievement Award announced at the Motion Control Industry Awards in Birmingham on 10 April 2018.
David has been a leading light in the field of fluid power for almost half a century. A Chemist by training from Manchester University, he has worked for a range of blue chip organisations including major players such as Ciba Geigy, FMC and Chemtura Corporation. During what has been a very successful technical career, he became a Fellow of the UK Energy Institute and a Fellow of the Society of Tribologists and Engineers as well as becoming a renowned UK expert to several ISO Committees onHydraulic fluids and Turbine Oils.
He has long been associated in one way or another with the BFPA but it has been during the last thirteen years as a widely respected independent consultant to both the BFPA and the wider industry, that he has done much of the work for which he is best known. Not only has David contributed to various courses but somehow,he also found time to be an author helping to write a book called 'Hydraulic Fluids - A Practical Guide'; and penned many technical papers and articles over his career.
Much of his contribution to the BFPA has been in the area of Technical Standards where he is current Chairman of the UK National Committee on Hydraulic Fluids and is a Past Chairman of the European CETOP Committee on Hydraulic Fluids.
Well done David, from all your colleagues and friends in the industry – a well-deserved award.
---