BFPA presents lifetime achievement award to Phil Keep
27 June, 2019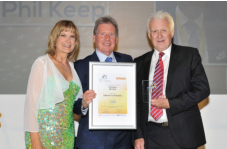 Phil Keep of MP Filtri UK Ltd was the winner of this year's BFPA Lifetime Achievement award which was presented at the third annual MCI Awards ceremony at the National Conference Centre in Birmingham on 22 May 2019, by Peter Willson, ex-BFPDA Council Chairman and Managing Director of Hopespare Ltd.
Phil has been at the helm of MP Filtri UK Ltd for nearly 30 years. He began his career as a design engineer with Plessey Hydraulics before bringing his technical expertise to a new role in sales and his extensive product knowledge has since been developed in roles with some of the biggest names in the hydraulics, filtration, and components industry. In his time as Managing Director of MP Filtri UK, he has transformed the UK operation from a small distribution company into an international market leader in the development of contamination control technology and the sale of hydraulic filtration products.
The British operation started out with just two employees and a product range that was new to the market. Since its first year, the MP Filtri UK's turnover has increased more than one hundred fold with 2018 marking a major milestone in the company's growth and the company now designs, manufactures and sells a comprehensive and world leading range of innovative contamination monitors and particle counters. Now, under Phil's leadership, the company is preparing the next phase of its expansion with a move to a purpose-built high-tech, state-of-the-art production facility.
Phil is a much admired and popular individual and is a key supporter of the FPIGS Golf Society. Never missing an opportunity to support the fluid power industry, he also contributes to a range of domestic and international technical committees and has been a long-standing member of the BFPA Board of Directors. BFPA's congratulations go to Phil for winning this prestigious award.
---
AIR-TECH EXHIBITION


16 April, 2024, 9:30 - 18 April, 2024, 4:00




Hall 9, the NEC, Birmingham, UK

FLUID POWER & SYSTEMS EXHIBITION


16 April, 2024, 9:30 - 18 April, 2024, 4:00




Hall 9, the NEC, Birmingham, UK