BFPA Technical Standards work second to none
21 March, 2019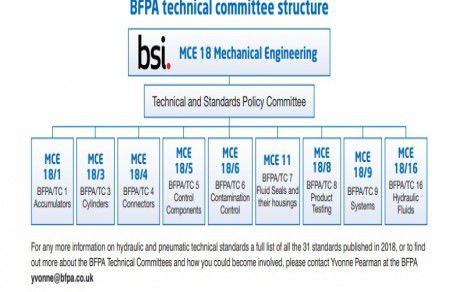 BFPA member satisfaction surveys over the years have repeatedly shown how valuable our members believe the BFPA technical standards development work is to the industry, and for some it is the main reason they are members. 2018 was yet another successful year for the various BFPA Technical Committees, which were responsible for the revision, development and publication of no less than 31 technical standards relating to fluid power.
BFPA's Standards Projects Manager Yvonne Pearman commented:
"Of the international standards and technical reports published and contributed to in 2018, two important technical reports emerged following BFPA's and CETOP's input and lobbying for the fluid power industry's position in relation to the EcoDesign Directive 2009/125/EC with regards to energy efficiency. She added: "As technical reports they are valid for three years, after which, ballots to review their status will be held to consider whether they should bedeveloped as international standards."The reports referred to are:
BS ISO/TR 22165:2018 – PFP – Application notes for the improvement of the energy efficiency of pneumatic systems (published) and
ISO/DTR 22164 HFP – Application notes for the optimization of the energy efficiency of hydraulic systems (due to be published soon).
BFPA's 10 technical and standards development committees drive standards in the industry forward. These committees are made up of BFPA members who are experts in their particular field, who work tirelessly – and voluntarily – on behalf of all of our members, using their expertise andmembers, using their expertise and experience to benefit the industry.
---
AIR-TECH EXHIBITION


16 April, 2024, 9:30 - 18 April, 2024, 4:00




Hall 9, the NEC, Birmingham, UK

FLUID POWER & SYSTEMS EXHIBITION


16 April, 2024, 9:30 - 18 April, 2024, 4:00




Hall 9, the NEC, Birmingham, UK