26 September, 2017
Robots are becoming uncaged, mobile, collaborative and increasingly intelligent and dexterous, moving beyond their traditional strongholds to bring automation to previously inaccessible tasks. Agriculture is also no exception and is being quietly transformed by this rising new robotics. In this article, IDTechEx considers the evolution and the long-term impact of autonomous mobility in farm vehicles.
---
26 September, 2017

A new report launched by the United Nations Industrial Development Organisation (UNIDO) looks into the opportunities and challenges of the Fourth Industrial Revolution, also referred to as Industry 4.0, to accelerate the transition towards sustainable energy. The report, produced in collaboration with the German Institute for Advanced Sustainability Studies (IASS) and the Indonesian think tank Sustainability & Resilience.Co (su-re.co), also provides key recommendations for future policies.
---
26 September, 2017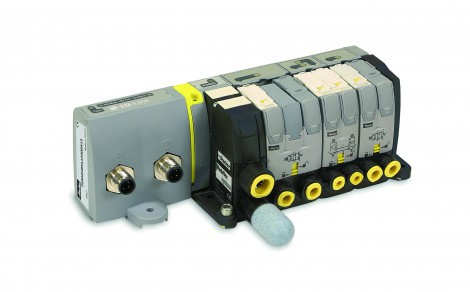 Intelligent production enables minimised downtime and optimal efficiency, writes Patrick Berdal, product manager for control devices, Parker Hannifin, Pneumatic Division Europe (pictured).
---
23 August, 2017
Embracing new realities: reinventing our industry - SPE Offshore Europe 2017 – which will take place from 5 to 8 September 2017 at the Aberdeen Exhibition and Conference Centre (AECC) – is being staged at a time when confidence levels are gradually climbing following the longest and most significant downturn the oil & gas industry has seen in decades.
---
23 August, 2017
Component cleanliness is a key quality criterion in the motor industry. Requirements are becoming stricter as each vehicle generation launches. This is why more and more manufacturers are turning to companies such as Tewkesbury-based MecWash and its aqueous cleaning and degreasing systems to deliver precision results, as well as reduced costs.
---
23 August, 2017
Trelleborg's engineered products operation has been awarded a contract for the supply of elastomeric bearings to Statoil's Johan Sverdrup oil field, Norway's largest offshore development in the past three decades.
---
22 August, 2017

Get ready for the return of our industry's main event next April. Fluid Power & Systems and Air-Tech are set to taking place again at the NEC, Birmingham from 10 to 12 April next year.
---
22 August, 2017

Setting aside its more familiar applications in gaming and consumer attractions, virtual reality has become a vital resource for the design engineer as it provides valuable insights into the 3D virtual design model, iteration by iteration, ahead of any investment in the physical prototype.
---
16 June, 2017
Festo, the supplier of automation equipment, has unveiled three new lightweight robotic concepts for handling with pneumatics, working in collaboration with humans.
---
16 June, 2017
By Patrick Berdal, product manager for control devices, Automation Group Europe, Parker Hannifin, looks at how industrial networks are shaping the future of pneumatic motion control.
---
16 June, 2017
Making the benefits of digitalisation tangible – that was the declared objective of Hannover Messe 2017. After five days of intense activity, the organisers spoke of a thriving event. A large number of solution-seekers gathered at the event to learn more about the potential of intelligent robots, adaptive machines and integrated energy systems, taking attendance to new heights.
---
16 June, 2017
Robert Gordon University (RGU) has launched a new set of online short courses to help professional development and address skills needs within the oil & gas industry.
---
16 June, 2017

A new range of electromechanical linear actuators from SKF has been launched with the aim of providing viable replacements for many more hydraulics applications in agricultural machinery and construction vehicles.
---
16 June, 2017

John Chapman, managing director of Linde Hydraulics UK, considers what OEM companies within the agriculture sector should insist on from equipment providers in terms of products and services.
---
13 April, 2017

Train operators are looking to free up space in rail carriages to provide more comfort for passengers. That is resulting in the use of compact and versatile circuit protection technologies which can help maximise carriage layout configurations, while contributing to a reduction in total cost of ownership, writes Delphine Clement, Eaton EMEA rail segment manager.
---