Hydroscand launches new H60D swager
16 December, 2021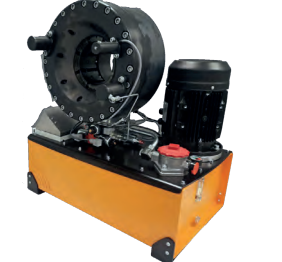 In 2020, Hydroscand Machine AB launched a range of lightweight crimping machines. The company reports that these have proved to be extremely popular due to the genuine portability of the H16LW handheld machine and the significantly reduced weight of the H24LW, meaning service vehicles fitted with this machine can carry 50kg additional stock.
Following on from the success of the lightweight machines and in line with customer demand, Hydroscand Machine has developed the H60D AutoCal 4" Crimper. The H60D is designed to be used for the toughest applications and has a crimping range of up to 128 mm, 350-ton crimping force and can crimp hoses up to 4" diameter.
Increased flexibility
According to Hydroscand Machine, it is an ideal machine for a workshop, hose branch or hose assembly production facility. The company adds that, with this machine, users can press the toughest hydraulic hoses and industrial hoses up to 4". The H60 machine provides increased flexibility in terms of the range it can provide.
It is available as the H60D BASIC model or as H60D AUTOCAL. The latter is equipped with a user-friendly digital control for faster entry of crimping data. The automatic calibration system warns you at preset intervals that calibration is needed, and calibration can be completed in just ten seconds.
Hydroscand Machine manufactures a wide range of assembly machines and accessories for the hydraulic hose industry. Hydroscand Group comments that its 50 plus years of experience in the hose assembly business has given it a unique understanding of the needs of machine operators, which informs the production and development of Hydroscand Machine's large machine range.
Environmentally friendly
Hydroscand Group adds that its machines are built to be as environmentally friendly as possible, easy to use, ergonomic and to meet high international safety standards corresponding to European CEregulations.
https://www.linkedin.com/company/hydroscand-uk/
---