Process tubes with complex bends – an easier process with new O+P machine
02 March, 2021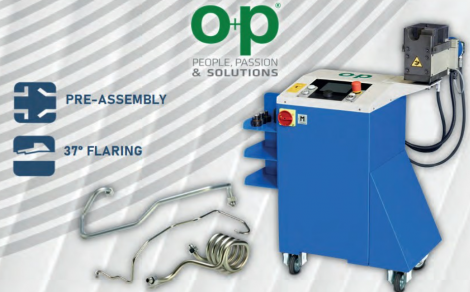 For businesses making tubes with complex shapes or composite hoses (flexible + rigid), many might find it difficult to find a machine that can properly process them. Due to the complexity of the bends, there often is a limit of space that makes pre-assembling tubes complicated, if not impossible.
O+P has introduced a new machine - Unispeed USFL 24/37 ES 6/18 – specifically conceived to solve this problem. Due to its layout, this machine allows users to easily preassemble DIN2353 rings and 37° JIC fittings on stainless (AISI 316 TI) and carbon (ST 37.4) steel tubes with Ø 6-18 mm (1/4''-5/8'') and a maximum thickness of 2 mm.
The cylinder – which features as patentpending rotating configuration – has been separated from the main structure of the machine to allow for more working space. This, together with tools more compact than the standard, gives users the possibility to comfortably pre-assemble tubes with a very short flat-end (where the distance between the pre-assembly point and the first bend is very limited), which are very common in the automotive industry. The Unispeed USFL 24/37 ES 6/18 is provided with an electronic colour touch-screen control, to easily and rapidly enter and edit working recipes, side tool-storage shelves and wheels, to move the machine around the workshop comfortably.
https://www.linkedin.com/company/op-srl
https://www.facebook.com/OP-srl-473093589512135/
---