Standards: Setting the foundation for state-of-the-art safety and sustainability
19 August, 2021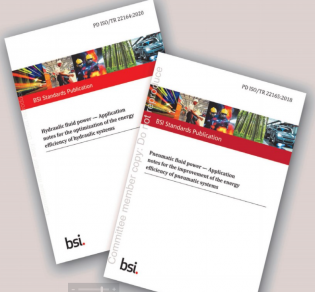 Richard Driver, technical manager, valves section, in the SMC European Technical Centre based in the UK, is a technical expert on the BFPA's MCE18/5 and MCE 18/8 technical committees and contributes to the resulting standards. SMC, as a leading pneumatic supplier in the UK and globally, recognises the importance of getting involved in BFPA's important industry standards development work. 
Standards play a critical role in the safety, efficiency, efficacy and now more than ever, sustainability, of just about every walk of life, including modern industrial, processing and manufacturing operations. In the international arena ISO is a dominant force, with multiple countries deferring to and adopting its standards and guidelines. The UK's role in ISO formulations and accreditations is represented by the British Standards Institution, or BSI. BSI, for all of its history, experience and depth of capabilities cannot possibly manage all standards across all categories, and it is here that trade association and industry bodies step in to offer their expertise; one of which is the British Fluid Power Association.
The BFPA plays a critical role – within 10 different technical committees – in not only helping to define the standards, but also ensuring that British industry is represented during global decision making and debates. Other countries, with the same level of representation, do the same for their national bodies, the end result being the creation and agreement on standards that match the needs, expectations and capabilities of all stakeholders.
Common aim
Driver explains the BFPA's role in both developing and modernising standards and how local technical committees can have an impact on something with an international reach. "I am involved in two BFPA/BSI technical committees under my BFPA remit. The first, which I chair at BFPA, is MCE 18/5. This covers pneumatic and hydraulic control components. I am also a member of the MCE 18/8 committee, which covers product testing. As part of this role, I represent the UK on behalf of the BSI on three ISO technical committees, one of which is pneumatic control products. During these discussions I meet people from all over the world, all of whom are representing their individual countries, with the common aim of developing standards that represent state of the art in that area.
Driver continues: "ISO has technical committees that cover everything you can think of. I take part in these discussions to ensure that the UK is represented and that standards are not skewed towards one country or one company. The BFPA acts as External Secretariat on behalf of the BSI, which then relies upon its member to debate and deliver the knowledge and foundations for realistic workable solutions which can be represented at the International meetings. The BFPA actually has a technical committee structure that closely mirrors the ISO structure, so when new standards are introduced, or older ones require revisions or amendments, a suitable skill set can be applied."
Energy efficiency
There are other committees within the BPFA that look at other facets of the fluid power industry, one of which is MCE 18/9, which handles energy efficiency. Two standards published under this committee are: ISO 22164 Fluid power – Application notes for the optimization of the energy efficiency of hydraulic systems and ISO 22165 PFP – Application notes for the improvement of the energy efficiency of pneumatic systems. It should be noted that Application notes along with technical reports (TR) are not standards per se but are in fact guidelines and suggested best practice.
---
AIR-TECH EXHIBITION


16 April, 2024, 9:30 - 18 April, 2024, 4:00




Hall 9, the NEC, Birmingham, UK

FLUID POWER & SYSTEMS EXHIBITION


16 April, 2024, 9:30 - 18 April, 2024, 4:00




Hall 9, the NEC, Birmingham, UK