Functional safety in electrohydraulics
01 August, 2018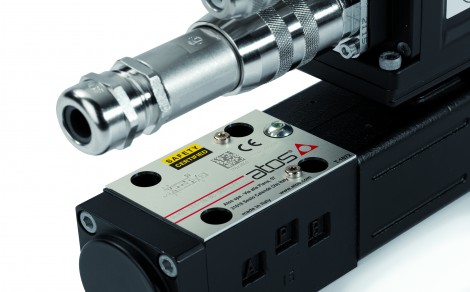 Atos claims to be the only worldwide manufacturer offering a full range of proportional and conventional valves designed for functional safety and certified by a notified body.
The Machine Directive 2006/42/EC with relevant harmonised standards IEC 61508 Safety Integrity Level (SIL) and ISO 13849 Performance Level (PL) define the general principles concerning machine safety, which manufacturers have to consider to limit risk related to machine operation.
Atos certified proportional valves meet these standards by performing the safety function in addition to standard axis motion control. By keeping the on-board diagnostics active when removing solenoid power, Atos valves confirm when a safe spool position has been reached.
The valves are certified by TÜV in compliance with ISO 13849 up to category 4, PL e and IEC 61508 up to SIL 2 / SIL 3. Atos safety valves help in limiting potential risks to equipment or operators, preventing dangerous movements of electrohydraulic axes during production cycles or emergency conditions.
Certified safety valves eliminate the need for machine manufacturers to validate such components comply with the applicable safety standards. This saves considerable amounts of time during the machine design phase and the system certification process.
Of course, actual system SIL and PL levels do not depend only on the characteristics of single components but also on the hydraulic system architecture and diagnostic coverage.
Atos specialists are available and ready to support customers in the tuning of the best safety electrohydraulics solution for their application.
---