John Busby obituary
30 March, 2021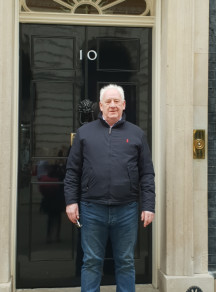 John Busby of Pirtek passed away on 3 March 2021. He was 66 years of age. John, who was based at Pirtek's UK head office in London, made a major contribution to the growth of Pirtek in the UK and Europe.
John, who grew up in Glasgow, started his professional career in the fluid power industry with Dunlop Hiflex as branch manager in January 1972. He remained there until January 1990. He then joined Pirtek UK in February 1990 as European technical manager based at the company's first UK office and centre in Park Royal, London. In this role, he was engaged in technical negotiation; purchasing; training; centre managerial and operations. John remained in this position until May 2007.
After a period of self-employment as a technical consultant until May 2010, John joined Stauff UK as Stauff Flex global development manager in June that year. A period of freelance consultancy and training followed from November 2015 to November 2016, after which John re-joined Pirtek UK as European procurement technical & quality manager, a position he held until his passing earlier this month.
Jon Oswald, who worked alongside John at Pirtek UK for many years in a product support role, comments: "John's knowledge of hoses and fittings and the marketplace in general was second to none. He played an instrumental role in helping Pirtek grow in the UK, as well as expanding into Europe – launching HQs and centres in Benelux and Germany. John was very personable and had clients who became friends in every part of the globe including India, China, Australia, America, Asia, Europe and the UK. He was a wonderful mentor and friend to me and many others. John always started a sentence with "Two things are…" no matter how many points he was planning on making – usually just one."
John was actively involved in the British Fluid Power Association, and regularly attended meetings related to BFPA Technical Committee TC 4 'Connectors and Associated Components' (BSI panel MCE/18/-/4) from 2017 to 2021. He last attended a virtual meeting as recently as February this year. John was an approved BFPA trainer for BFPA Foundation Safety Training (2010) and BFPA Hose Assembly Skills Training (2012)
Chris Buxton, CEO of the BFPA, comments: "John had a great heart and was widely regarded as an industry elder. Always incredibly well-informed, he had an eye for detail and was a champion of quality and standards both on the BFPA technical committees and in everyday life. He will be sorely missed by the BFPA and many other stakeholders across the industry."
John was an avid football player and was an avid West Ham and Celtic supporter. He also loved reading. John lived in Loughton, Essex. He leaves behind wife of 37 years, Dawn, and 20-year-old son Joe. A Just Giving site has been set up in John's honour. if anyone would like to donate to a just cause, please visit: https://www.gofundme.com/f/john-busby-memorial
---