Safety paramount in Camozzi's Series MX Safemax 3/2-way quick exhaust valves
07 December, 2020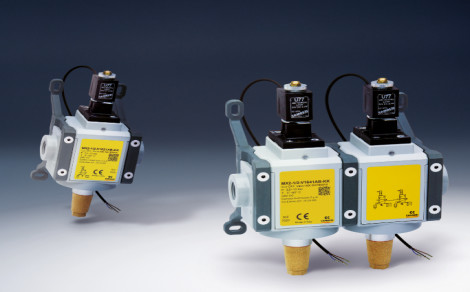 Camozzi Automation has launched its new Series MX Safemax 3/2-way quick exhaust safety valves. Designed to provide a plug-and-play solution for OEMs that need to be compliant with Machinery Directive 2006/42/EC, the range also complies with ISO 13849-1, covering the safe design of control systems performing safety functions.
Safety valves ensure that in the event of an emergency, safety-critical system components can be exhausted and de-energised as quickly as possible. This exhausting operation can be accurately monitored through the valves' integrated anti-tamper sensor, which detects and monitors the position of the spool.Series MX Safemax is available in two versions which can achieve different performance levels.
The single channel version is classified in category 2 to achieve Performance Level D. The double channel valve is classified in category 4 to achieve Performance Level E.These high exhaust flow valves are designed for integration into existing Camozzi Series MX2 FRL groups. With an operating temperature of -5 to +60degC, the valves feature FKM seals, offering excellent resistance against contaminants.
https://www.linkedin.com/company/camozzi-automation-ltd/
---
AIR-TECH EXHIBITION


16 April, 2024, 9:30 - 18 April, 2024, 4:00




Hall 9, the NEC, Birmingham, UK

FLUID POWER & SYSTEMS EXHIBITION


16 April, 2024, 9:30 - 18 April, 2024, 4:00




Hall 9, the NEC, Birmingham, UK