MCO-I opens new Gulf Coast centrifugal compressor test stand
17 November, 2020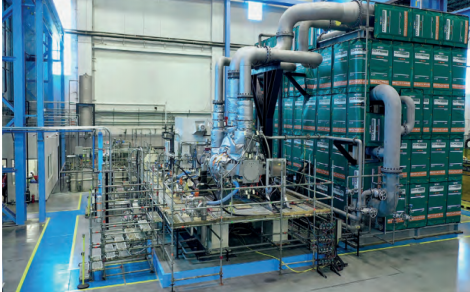 MHI Compressor International Corporation (MCO-I), the designer and manufacturer of compressors, steam turbines and associated auxiliary systems, has launched a new performance test stand for API617 centrifugal compressor testing in Houston, Texas US.
The new test stand means the Gulf Coast region now has a global manufacturer with a significant regional presence. MCO-I will be the only centrifugal compressor OEM in the region with these performance testing capabilities. The new test stand conducts PTC 10 Type 2 performance testing and mechanical running tests on small to midsize compressors, for the oil and gas, fertiliser, methanol and other industries.
As the only OEM to have a compressor test stand performing PTC 10 Type 2 testing in the Gulf Coast region, MCO-I will be able to manufacture, assemble and test exclusively within the US.
Shorter project lead times
The localised offering is claimed to mean US customers will benefit from shorter project lead times, allowing for quicker time to market. MCO-I comments that customers will be able to minimise schedule risks due to simplified logistics to site for installation and commissioning.MCO-I adds that customers will also be able to receive a more timely and comprehensive explanation of shop test results and will benefit from the ability towitness shop tests close to home – lowering costs involved in traveling nationally or internationally to witness inspections and tests.
Full-service factory
Clayton Jurica, sales manager, MCO-I, says: "Our new Gulf Coast test standmeans MCO-I can now execute as a fullservice factory that can manufacture, assemble and test centrifugal compressors for our Gulf Coast customers. More than 90% of our customers are located within a 300-mile radius of the facility, which provides them significant advantages when it comes to new equipment manufacturing and execution and servicing machinery throughout its lifecycle. Additionally, due to close proximity to existing plants, we'll be able to offer performance testing and mechanical runs of compressors that have been revamped and/or ignificantly modified, all within a tight customer turnaround schedule.
We're extremely proud to have made substantial investments in the Gulf Coast over the last few years while many others have relocated manufacturing internationally." The first test stand demonstration test was successfully completed in June. The test stand includes closed loop system, double ended motor drive, multiple gearboxes and associated auxiliaries that are capable of testing small-to-medium sized horizontally split and barrel compressors.
---