Apprentice appointment at Hertz Kompressoren UK
12 December, 2019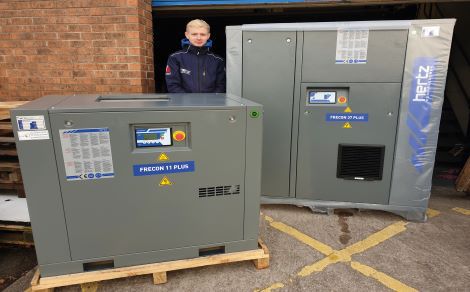 Apprentice appointment at Hertz Kompressoren UK
Hertz Kompressoren UK – the supplier of compressor and drying equipment, including rotary screw air compressors, reciprocating air compressors, compressed air dryers and compressed air line filters – has appointed an apprentice.
17-year-old Nathan Heywood is working alongside managing director Graeme Middleton-Duff at the company's main premises: Unit 13 Peel Mills Industrial Estate, Chamberhall Street Bury, Manchester.
Heywood lives locally and was strongly recommended to Hertz by a respected business contact. Graeme Middleton-Duff comments that Heywood has already proved himself to be highly dedicated and keen to learn all aspects of the compressor and dryer industry. "Nathan has a great attitude and is a really valuable asset for the business," he said. "He's calm and relaxed but very focused and picks things up very quickly. He wants to gain as much hands-on knowhow as he can as early on in his career as he can."
Graeme Middleton-Duff explained that Heywood is currently mainly learning about warehousing, goods in goods out; spare parts, as well as the technical attributes of specific types of compressor and dryer equipment, including filtration.
The right time
Company director, Meltem Middleton-Duff, added that the company felt it was the right time to take on an apprentice as the company is fast expanding and needs to look to the future.
Heywood is currently part way through a 15-month apprenticeship course in manufacturing and warehousing. He will then take training courses in maintenance and support. Meltem Middleton-Duff explained that Heywood is also keen to do the BCAS DipCAM engineering apprenticeship course in the near future.
Graeme Middleton-Duff said the company is considering appointing other apprentices over the next few years. "There's a shortage of engineering apprentices in the UK and I feel this is a shame," he said. "We need to encourage young people to enter an industry such as ours because it has much to offer – a stable, life-long career and an interesting lifestyle with lots of potential for advancement."
Image caption :Nathan Heywood: Keen and focused.
---