Hertz Kompressoren celebrates ten years in the UK
07 June, 2019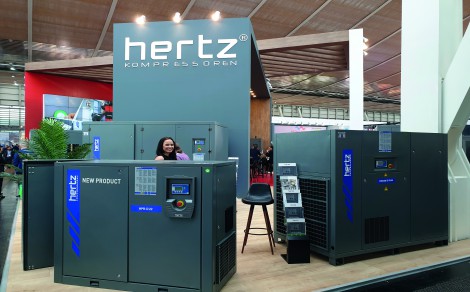 Hertz Kompressoren is celebrating its 10th anniversary in the UK this April. This milestone has also seen the recent upscaling of its unit in on the Peel Mills Industrial Estate in Bury, Manchester due to increased demand and the subsequent need for greater levels of stock for the company's full range of fixed speed and variable speed compressors, Pet Master 100% oil-free compressors, turbo compressors and dryers.
Meltem Middleton-Duff, Hertz Kompressoren's UK director, said: "Over the past decade, we have built up an increasingly strong and loyal customer base within sectors such as garage equipment, food & beverage, laser cutting machinery, general engineering and universities. We have also established a growing network of dealers throughout the UK and Ireland, which is able to supply, maintain and support our full range of products on behalf of customers."
Loyalty
In terms of the background behind the company's success, Meltem Middleton-Duff believes this is down to a number of factors; including quality products and a 24/7 service and support service, together with full loyalty to Hertz Kompressoren's approved network of dealers. She pointed out that Hertz Kompressoren provides full compressor, dryer and ancillary equipment training for dealers at its Manchester site, to aim to ensure that the level of service provided to customers is second to none.
Graeme Middleton-Duff, Hertz Kompressoren UK's managing director, added that the company has seen a substantial growth in demand for variable speed drive (VSD) compressors over the past few years. "We have sold a large number of compressors with Danfoss variable speed drives 5.5kW up to 315kW. The interest in VSD models is encouraging because these models are better for the environment and good for users from a cost-saving/energy efficiency point of view. Indeed, one of our biggest customers achieved a payback within 3 months.
Exhibition presence
As part of its ongoing marketing strategy, Hertz Kompressoren plans to exhibit at some of the leading UK exhibitions this year; including PPMA and Railtex. Also, in line with its ongoing growth goals the company is planning to purchase a fully self-owned industrial unit within the next two years and will introduce a number of new products during the course of 2019.
---