JDS Compressors celebrates first anniversary
17 May, 2018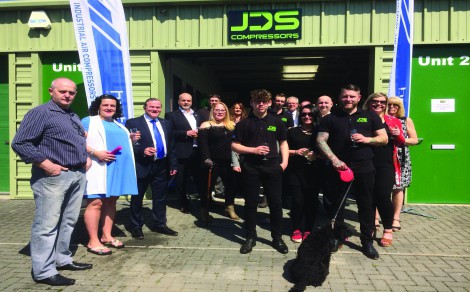 JDS Compressors Ltd., the supplier, designer and installer of compressed air systems and pipework, recently marked its first year of operation with a celebratory event for customers, partners, staff and family at its newly acquired business unit in Woking, Surrey. JDS Compressors supplies compressors from leading vendors Hertz Kompressoren and Bambi.
Company proprietor, James Shaw, commented: "I started the company on 10 April 2017 largely working from home, and it has continued to grow every since. With the opening of our new business unit I thought it was the ideal opportunity to say a big thank you to everyone who has supported the company over the past 12 months or so."
Background
Shaw previously worked at The Compressed Air Centre in Chessington, where he gained in-depth practical knowledge of air compressors, pipework and auxiliary equipment such as oil water separators, desiccant dryers and air tools. Prior to his time at the Compressed Air Centre, Shaw served with the Royal Air Force for four years as a Weapons Technician. "During this time I worked at RAF Odiham, loading weapon systems onto Chinook helicopters and later served in Afghanistan, where I had the opportunity to further hone my engineering skills," he said.
Shaw explained the background behind JDS Compressors' partnership with compressor suppliers Hertz Kompressoren and Bambi. "I wanted to partner with suppliers who had well-established reputations within the smaller business marketplace, as well as having the ability to serve larger customers. Hertz Kompressoren is based in Manchester and is mainly well-known as a compressor supplier in the North and Midlands. Now, JDS Compressors acts as its main representative in the South, and over the past few months this arrangement has worked extremely well both for us and Hertz Kompressoren. Similarly with Bambi, the company's range of compressors is a perfect fit for the medical, dental, laboratory and OEM applications – some of our key target markets."
In terms of future aspirations, Shaw would like for JDS Compressors to be recognised as one of the leading compressed air engineering companies in the UK.
---