On the spot oil sampling and analysis
20 August, 2019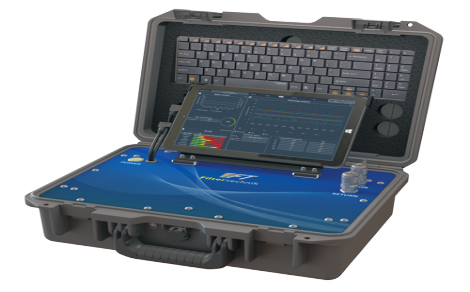 Filtertechnik's Particle Pal Pro portable particle counter is specifically designed to overcome the unique challenges faced when testing oil in hydraulic machines:
• High viscosity capability (up to 2400cst)
• Broad spectrum of micron counts
• Air bubble elimination from the counts
• Sliding, cutting and fatigue wear analysis
• Water content analysis
• Remaining life of the oil
Particle Pal Pro utilises digital imaging technology to provide engineers with the clearest indication of the overall health of over 500 oils, clear graphs and data tables, digital images of oil contamination and easy-to-read information.
A broad range of cleanliness codes can be displayed in real-time including 4, 6, 14, 21, 38, 70 & >100 micron counts per mL, ISO, NAS & SAE cleanliness codes. In-depth information is given on the particles, particles are categorised into fatigue, sliding or cutting wear while also recognising fibres. Air bubbles and water droplets are counted and then eliminated from the counts making the Particle Pal Pro suitable for live testing or permanent installation on a system where air is present e.g. gear boxes.
An internal water sensor also identifies the % saturation or humidity of any oil, tracking humidity against temperature. Water is the second most harmful contaminant after solid particulate, meaning that understanding whether water content is getting too high is equally paramount.
The built in Tan Delta oil condition sensor gives the remaining life of the oil. A database of over 500 oils degradation curves are included in the database with the ability to self-calibrate any oil not on the database.
The Particle Pal Pro is able to self-prime, pump and measure oil up to 2400cst. A special internal stepper motor pump with controlled flow rate can run for 6-8 hours on a single charge, thanks to a self-contained battery unit.
All results are logged internally and can be exported as a PDF document, .xls spreadsheet and/or .jpg images for reporting purposes.
Particle Pal Pro ships with a full accessory case for drawing samples and taking results.
Oil sampling and analysis
Proper oil sampling is critical to an effective oil analysis program. Using a sample pump is an easy way to get a representative sample from either a tank or through a test point in a hydraulic line or gearbox. The sample is posted to a central lab, using sample bottles and packaging supplied in the kit, which uses a sophisticated spectrometer to analyse the oil sample. Spectrometry allows the lab to identify and quantify wear metals, oil additives, solid contaminants, dirt and water in the sample making oil analysis a useful service in predicting potential problems in machines of all types.
Patch test kit
A patch test kit provides everything that's needed to make an operator self-sufficient in identifying the type and level of contamination in fluid power or lube systems in a process or manufacturing environment. Patch testing allows rapid testing and analysis and it's very effective in determining the source of contamination – bright metals, paint, silica etc. – can be traced to the source.
The testing process starts with a representative oil sample being taken from a test point in an oil circuit. A sample of the fluid is passed through a filter membrane, using a vacuum pump, dried and mounted in a membrane holder ready for a visual assessment under a digital microscope.
Comparator slides are used to help establish cleanliness levels in the sample to an ISO code. The supplied filter colour rating and particle assessment scales correspond to ISO 4407, the international standard for particulate contamination of fluids determined by the counting method
Excellence in Innovation award
Filtertechnik won the Excellence in Innovation award on 22 May for its Particle Pal Pro at the Nottingham Post's annual Business Awards event. For more information on the awards evening visit: https://nottinghampostbusinessawards.co.uk
---