Smart just got smarter with Filtertechnik's new Particle Pal Life
18 July, 2018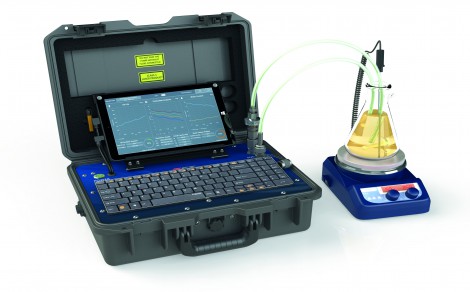 Filtertechnik has developed what it describes as a world first with its new Particle Pal Life self-contained portable measuring system. Building on the success of the award-winning Particle Pal, this new offering provides real-time ISO cleanliness readings, together with water content and oil condition information for over 500 commonly used oils all within one compact kit.
Particle Pal Life can provide detailed insight into the health of oil in real time, helping engineers to make informed choices regarding oil replacement or treatment planning.
New software
A 10" touchscreen LCD tablet allows users to view data in clear detail, while a zoom facility can be used to focus on specific results. Within the software Filtertechnik has embedded oil ageing profiles for over 500 oils, as well as the ability to self-calibrate an oil life profile should a particular oil not be on the database. This is a one-time routine where oil is taken through a calibration cycle.
Oil life sensor
The built-in Tan Delta full spectrum holistic oil condition sensor monitors the overall condition of the oil, providing data with a high level of sensitivity, accuracy and precision. This enables the oil's remaining useful life to be calculated accurately. Filtertechnik explains that the sensor can work with virtually any oil, drawing on its extensive database of common industrial oils with the ability to self-calibrate.
Laser particulate counter
Filtertechnik states that its laser particulate counters are accurate to within+/-0.5 of an ISO code with a repeatability of +/-0.1%. Reporting in ISO, SAE and NAS classes as well as giving the particle quantity counts in 4, 6, 14 and 21 micron sizes.
Water sensor
Water in oil is a contaminant that causes additive depletion, microbial growth and encourages contamination from solids. The in-built water sensor shows the humidity of any oil as a % saturation.
Case design
Lightweight and heavy duty, the outer casing of the Particle Pal Life is ideal for working in the field. Supplied with an accessory case containing all the equipment you need to conduct tests and self-calibrate oils not on the database.
Off-site data back-up
A built in SIM card provides an option for data to be automatically transferred off-site and backed up where it can be viewed at any time. Once data is logged it can be recalled at any time to build trend history.
Optional yearly licence
All new Particle Pal Life units include software updates and off-site back-up licence for the first year. Every 12 months thereafter there is an optional charge for annual sensor verification/calibration, off-site back-up and software updates, including all new oils profiled.
High pressure internal gear pump
Draw from oil stored in tanks or from sample bottles. Alternatively, the unit can analyse oils from pressurised systems via a high-pressure adaptor, allowing connection to live systems up to 350 bar.
---