High-performance hose provides secure supply to Hexapod drives
22 March, 2019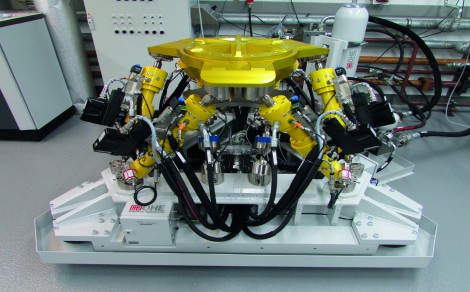 Dynamic movements in drive cylinder in all six degrees of freedom, test frequency of up to 100 hertz, a tight installation area: installing hydraulic hoses in Hexapod test benches to be used by automotive manufacturers to test suspension elements is a challenge. Oelhydraulik Hagenbuch AG therefore uses flexible high- performance hoses from Eaton's Aeroquip Triple Crown product range.
A crucial factor for driving comfort and safety within motor vehicles are suspension components. A renowned automotive manufacturer therefore tests each component thoroughly at its research centre. Within the facility the company operates state-of-the-art test rigs, including a Hexapod test bench: The characteristics of suspension elements as well as their transmission function are determined here. What's more, test bench can also be used for long-term vibration testing.
"The Hexapod concept allows dynamic movements in all six degrees of variance and thus a realistic simulation of environmental conditions. We also generate defined vibrations in order to determine component characteristics," explained Claudia Giesser-Meyer, head of marketing at Oelhydraulik Hagenbuch AG, manufacturer of Hexapod test benches.
The company was founded in 1955 and is a traditional Swiss family-owned company from Ebikon in the Canton of Lucerne. The 50 employees focus primarily on drive technology with oil hydraulics. Experience gathered over decades has been utilised directly in the construction of the Hexapod test benches. Hagenbuch builds versions for a wide variety of applications - for example, heavy load platforms for the assembly of aeroplane modules, for the simulation of ship movements in towing channels, or as shakers/simulation systems.
Vibration, torsion and high pressures
In the automotive manufacturer's research centre, the Hexapod provides highly flexible load settings, as the forces and paths can be individually programmed. "The suspension elements can be tested at a frequency of up to 100 hertz," said Daniel Roher, head of the service centre at Hagenbuch. "The upper platform can also be rotated by 90 degrees." The tests run for several weeks, 24 hours a day. In doing so, both the suspension elements being tested, and the Hexapod components can be subjected to enormous loads. The operating conditions are particularly tough on the hydraulic hoses, which supply oil to the six drive cylinders. "The Hexapod has six degrees of variance, meaning the drives move in every direction. So, the hoses are inevitably exposed to torsion forces," Rohrer pointed out. Exposure to torsion forces significantly reduce the life of standard hydraulic hoses. "In addition, the installation space in the Hexapod is severely limited and the hoses obviously cannot touch any of the other components, as doing so would quickly wear them out. "We therefore need a hose with the shortest possible bend radius. It also needs to withstand pressures of up to 200 bar," said Rohrer.
---
AIR-TECH EXHIBITION


16 April, 2024, 9:30 - 18 April, 2024, 4:00




Hall 9, the NEC, Birmingham, UK

FLUID POWER & SYSTEMS EXHIBITION


16 April, 2024, 9:30 - 18 April, 2024, 4:00




Hall 9, the NEC, Birmingham, UK