Taking hydraulic hoses to the extreme
18 September, 2020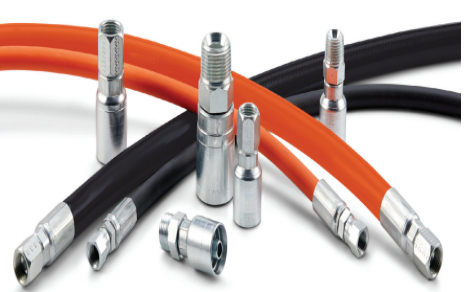 Material handling is tough, and it demands even tougher machines. Whether it's telehandlers, concrete sprayers or aerial lifts, boom-equipped machinery takes on some of the most punishing tasks in industries worldwide. That makes robustness and flexibility absolutely crucial for the hydraulic hoses at the heart of these applications.
However, in many cases rubber hoses simply aren't up to the challenge. Abrasion, flex fatigue, extreme temperatures and more can cause traditional hydraulic hoses to become brittle and fail prematurely – creating delays, safety risks and higher maintenance costs.
In response, thermoplastic hoses have become a more common sight in the toughest material handling machinery. Built using a variety of alternative tubing materials, such as nylon, polyester and polyurethane, these hoses offer considerable performance advantages over their rubber cousins.
Performance under pressure
The no-nonsense durability of thermoplastic hoses makes them ideal for the most demanding material handling applications. Compared with rubber alternatives, they boast far greater resistance to abrasion, chemicals, UV light, temperature extremes and other adverse conditions, as well as the ability to withstand the powerful pressure changes in heavy lifting applications while remaining flexible.
Thermoplastic hoses bring design benefits too. Installation is made easier thanks to the ability to custom thermoform hoses to fit into specific designs – enabling tighter routing, faster installation and optimised performance.
The unique properties of thermoplastic hoses also mean they can be manufactured in longer lengths than rubber alternatives. Hoses can be permanently joined together too, forming flat, compact and flexible multi-lines that can be reeled in easily.
With thermoplastic hoses weighing about 50% less than rubber wire braided equivalents, they also reduce machine weight, power requirements and fuel consumption – unleashing greater day-today value for users. Thermoplastic hoses won't degrade like rubber alternatives either, helping to maintain a clean hydraulic system and avoiding the downtime caused by contaminated filters and valves.
All these features translate into tangible, real-world advantages for end users – such as more uptime, higher productivity, greater design freedom and considerable cost savings.
Going to extremes
Eaton's new Synflex Optimum range is pushing the potential of thermoplastic hoses even further. The company's new hose composition combines the temperature tolerance and flexibility of polyester-lined hoses with the chemical compatibility of nylon-lined ones. The result is exceptional reliability and versatility in even the toughest conditions.
Our hoses are ideal for heavy lifting and handling equipment. We have options for working pressures from 70 bar to 350 bar, plus non-conductive variants to support the rapidly growing electrohydraulic market. Our new materials also offer improved hose functionality over a wider temperature range from -40degC to 100degC, as well as a 10% increase in abrasion resistance.
While more robust hydraulic hoses are great news for the material handling sector, Eaton also hopes the flexibility benefits of Synflex Optimum will pay dividends for the designers working on tomorrow's machines. When a designer asks 'would this work?', we want Synflex Optimum to give them the confidence that it can. We want them to be able to focus on design possibilities, not hose limitations.
---
AIR-TECH EXHIBITION


16 April, 2024, 9:30 - 18 April, 2024, 4:00




Hall 9, the NEC, Birmingham, UK

FLUID POWER & SYSTEMS EXHIBITION


16 April, 2024, 9:30 - 18 April, 2024, 4:00




Hall 9, the NEC, Birmingham, UK