The unexpected dangers of hydraulic hoses
25 January, 2022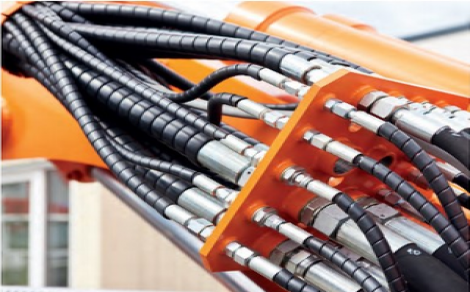 Martyn Smart, QHSE manager at Pirtek UK&IE, considers why health and safety in hydraulics should not be underestimated.
Hydraulic machinery is the driving force for many aspects of everyday life. From transport to food processing, rail to agriculture and environmental services, hydraulic-powered machinery is often the backbone to getting jobs done efficiently. Many people working within these sectors may not be aware of the complexities of working with equipment that is powered, either completely or partially, by hydraulics. The first time they are likely to face these challenges is when things go wrong.
The failure of hydraulic equipment can cause manufacturing, construction, public transport, or even military defence organisations to grind to a halt. Customers suffer delays, businesses are affected by supply shortages and workers are put under pressure to get things running again. As hydraulic specialists, a variety of sectors rely on expert help to keep their organisation on track and solve any emergency situations that might arise from the failure of hydraulic hoses.
Despite being a transformational piece of equipment, a hydraulic hose is not infallible and without professional maintenance, they can naturally sustain damage and degrade over time, failing before their average five-year life expectancy. Old age, accidental damage, high operating temperatures, abrasions, chemical erosion, leaking fittings, and over pressurisation are some of the common reasons for hoses needing to be replaced before their time.
Hydraulic health and safety
With budgets constantly under scrutiny, there can be a tendency for businesses with little knowledge of hydraulic safety to opt for a DIY fix (we have evidence of instances where spray foam or gaffer tape have been used to patch a failed hose or rigid tube) or re-ending; the process where the last few inches of the hose is cut off and replaced with new fittings to artificially extend its life. For those working in hydraulics, these quick fixes ring alarm bells. The British Fluid Power Association strongly advice against the practice of re-ending, with trade associations, industry experts and safetbodies all agreeing that the risks are too great; but the problem is still prevalent across the industry.
Highest standards
It is essential that members of the hydraulics industry promote the very highest of standards o all customers and highlight the false economy and dangers associated with DIY fixes and re-ending. The messages the industry should be promoting are clear and simple: get the experts in to deal with hydraulic hoses, do not attempt a DIY repair or short-term fixes. The key principles that the industry should be adhering to are as follows:
Hydraulic hoses must never be repaired due to the dangers associated with high pressure systems, instead they must be replaced with new, safe, compatible components. Hydraulic hoses are a high-risk component and should be treated as such. Regular planned maintenance and servicing should be carried out and documented.
Anyone dealing with hydraulic hoses should have received hydraulic safety awareness training provided by industry experts to reduce the risk of fluid injection injuries (which can result in amputation and even death) and other associated problems.
Any incident occurring involving hydraulic hoses should be reported and then reviewed for learnings and change in working practices.
As in any industry, prevention is far better than cure. Regular hydraulic maintenance and servicing is the most cost-effective way of preventing expensive machine failures and ensuring the smooth running of any organisation. A comprehensive Total Hose Management plan is the ultimate remedy for safe and efficient hydraulic hose care as well as working with an accredited provider to offer technical expertise and emergency cover.
https://twitter.com/PirtekUKIreland
https://www.linkedin.com/company/pirtek-uk-ltd/
---