Phoenix Hydraulics invest in new hose assembly area
20 September, 2018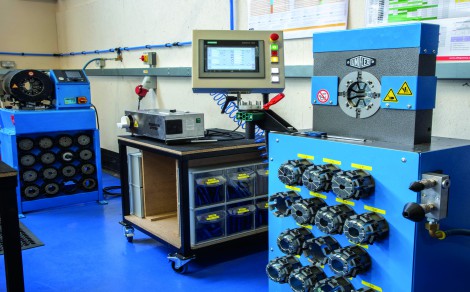 Due to a huge increase in customer demand for hydraulic hose assemblies, Phoenix Hydraulics has invested in setting up a new dedicated area with state-of-the-art equipment in one of its two 10,000 sq ft production facilities in Peterborough.
The company now offers its customers two dedicate production lines for making, cleaning and pressure testing hydraulic hose assemblies. Phoenix Hydraulics is producing large numbers of complex hose kits for major UK OEMs and this will help increase efficiencies and reduce lead times.
Phoenix Hydraulics has invested in a new Uniflex HM220 crimping machine. The company comments that this lean production crimper is the fastest proven production machine on the UK market. Phoenix Hydraulics' new test rig can test hoses up to 20,000 psi and is fitted with a data logger to produce hose test certificates.
In addition, Phoenix Hydraulics has purchased bench-mounted projectile launchers to ensure the cleanliness of its hydraulic hoses, and a new clean seal system which heat shrinks a clean seal capsule tightly around the hose assembly to avoid contamination getting into the hydraulic hoses before installation.
Phoenix stocks a large range of hose and fittings to ensure that customers can get their hose assemblies quickly and cost effectively.
---