Zeus flies high with Concorde project
15 February, 2019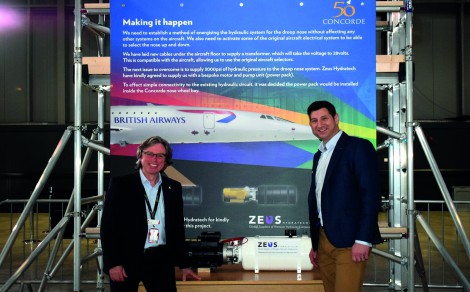 Concorde celebrates 50 years since its first flight from Filton in April 2019. With this milestone in sight, Aerospace Bristol decided to bring the iconic droop nose back to life for all to see.
During a family visit to the Aerospace Bristol museum, Oliver Starr, owner and managing director at Zeus Hydratech, struck up a conversation with one of the volunteers on site regarding the possibility of bringing the iconic droop nose back to life. He was then introduced to Paul Jones, the site conservation manager, and a formal meeting was arranged to discuss the technical aspects of the project.
During the past 3 months, Starr has been working with the Aerospace Bristol team to develop a bespoke hydraulic power pack unit. It was essential the power pack unit gave the required flow and pressure to operate the nose correctly. In addition to the outline performance, it was decided by the Aerospace Bristol team that all of the original cockpit controls would be utilised to control the hydraulic nose.
To facilitate this, Zeus Hydratech included a digital pressure transducer to give accurate system pressure in the cockpit, a digital low-level switch for the oil reservoir and a 24vdc operated valve to bring the power pack on line.
"It has been a real privilege to be part of such an exciting project," said Starr. "The opportunity to bring our expertise to a project that is so truly iconic and will bring joy to all that see it operating was something we just had to be involved with."
Lloyd Burnell, executive director at Aerospace Bristol, said: "We're extremely grateful to Zeus Hydratech for providing the power pack for this exciting Concorde50 project. Thanks to their generous support, Aerospace Bristol will be able to make the droop nose of Concorde Alpha Foxtrot – the last Concorde ever to fly – operational once again, in celebration of 50 years since Concorde's maiden flight."
---