Smart accumulators with BIS
02 October, 2018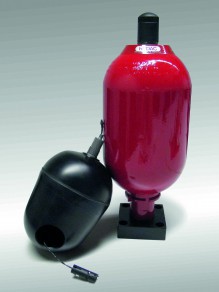 Hydac has developed a new product, the Bladder Integrity System, or BIS for short. It consists of a BIS bladder, BIS adapter and electronic component BIS 1000.
The BIS detects fluid which has penetrated the bladder and transmits a signal. A split is therefore detected in the bladder. In addition, the temperature and pressure can be monitored electronically (current loop/HART). The BIS is available together with a bladder accumulator as initial equipment. A retrofit version is also available.
Advantages
BIS identifies defective bladder during operation:
• Planned repair/maintenance intervals.
• Reduction in downtimes.
•
Key advantages of integrated pressure and temperature measurement are:
• Pressure and temperature monitoring of the accumulator during operation.
• Accurate adjustment of p0 and simultaneous temperature indication.
The application fields of the BIS are various; e.g. on hydraulic accumulators with emergency function such as mechanical seals, davits and unmanned plants (e.g. remote monitored oil fields).
Hydac comments that the knowledge and skill it has gained in over 50 years in the most demanding projects in diverse sectors of industry means its company industry and product specialists speak their customers' language.
---