Hose Shop secures second diamond mine deal
23 August, 2019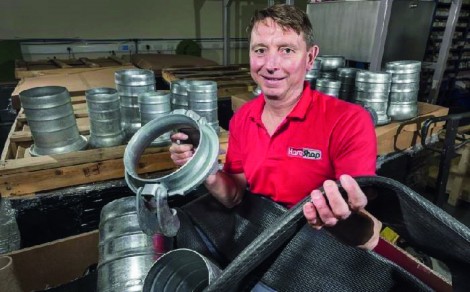 Hose Shop, a family run business in North Yorkshire, recently received a second order of hydraulic hose for a diamond mine 4600 miles away in Angola.
The original order was placed two years ago, with a total spend of £137,000 from the diamond mine. The order consisted of 4.8km of high-pressure lay-flat hose which was supplied in 200 metre lengths, in three different sizes and the couplings to join both hose together.
Mike Shakespeare, the owner of Hose Shop said: "They were very impressed the first time they ordered, as we were able to meet their specific packing requirements and were impressed with both our flexibility and customer service."
Online enquiry
The original order came via an online enquiry. Shakespeare responded with a quote and then the location and full nature of the order was revealed by the mine operator. The order was received by the mine within just two weeks of the enquiry, on both occasions.
The mine put in for a second order at the end of March, consisting of 1000m high pressure layflat hose. The type of hose chosen was due to its strength and durability, as they will be used to pump water away from the mine into natural watercourses.
In addition, the hose will also be used to divert some sections of the nearby river away during the dry season, so that the team at the mine can search for diamonds.
Hose Shop supplies a large range of hoses and accessories, which cover all areas of industry including engineering, horticultural, agricultural, vehicles, builders, offshore, power industry and many more.
---