HYDAC Accumulator product range
19 September, 2018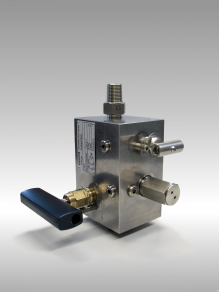 HYDAC accumulators can be found in the majority of hydraulic applications worldwide and as well in high-pressure areas (offshore applications) where pressures exceeding 1000 bar are quite customary.
Thus, HYDAC offers corresponding accessories to maintain and check high pressure accumulators.
The SAF8 safety and shut-off block for up to 800 bar.
A safety and shut-off block is installed on the fluid side of a hydraulic accumulator. It provides convenient separation of accumulator and system, relieves the tank and, thanks to the installed pressure limitation valve, safeguards the accumulator on the fluid side.
In addition to the HYDAC Safety and shut-off blocks SAF10 to SAF50, a high-pressure variant is available, with the following technical data:
- Pressure limitation valve: up to 800 bar
- Material: 1.4313 stainless steel
- autoclave thread connection, needle valve
- ATEX
This accessory product can be used with accumulators with pressures of up to 800 bar, such as SB690 and SK800.
The FPU-2 – Charging and Testing Unit for pressures up to 800 bar.
The HYDAC Charging and Testing Unit (FPU for short) is a testing and maintenance device for hydraulic accumulators. It is used to charge and test the pre-charge pressure in the accumulator or change an existing pre-charge pressure.
The FPU is designed to connect directly to HYDAC piston and diaphragm accumulators. Bladder accumulators however require the A3 adapter supplied. The FPU-2 has been developed especially for high pressure applications and is equipped with the following technical features:
- Max. operating pressure: 800 bar
- Gauge indication range: 0 - 1000 bar (14500 psi)
- Material: stainless steel 1.4313
---