Neilson Hydraulics powers up with Hatz
26 September, 2018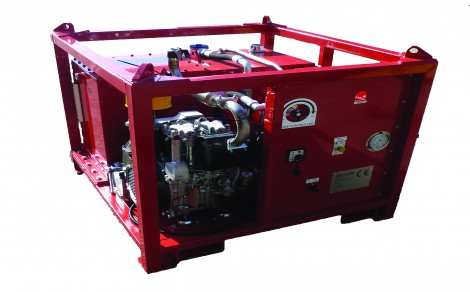 Rotherham based hydraulic specialist Neilson Hydraulics has developed a new hydraulic power pack designed for the international oil and gas markets. The latest offering is a hydraulic power pack that delivers 100 litres per minute @ 70 bar pressure.
The unit is diesel driven utilising a Hatz 2G40 engine. This German made engine is an air cooled, two-cylinder, 4-stroke diesel engine with 12V electric start. Neilson Hydraulics selected this particular Hatz engine principally because of its power and size requirements, alongside outstanding fuel economy.
The Neilson power pack is fitted with a variety of controls and diagnostics, including spark arrestors and Chalwyn valve for additional safety, making the unit compliant for use in potential combustible environments. The complete unit is contained inside a sturdy lifting frame with a built-in drip tray and forklift points for easy manoeuvrability.
Neilson Hydraulics' Jamie Clegg said: "We make use of Hatz diesel engines on a regular basis for various projects. Hatz GB always strives to provide a great service and therefore we will continue to support them. They offer a great product which is part of the solution that we offer our clients."
Neilson Hydraulics offers a range of hydraulic products, components, with over 30 years' expertise. The company focuses on three core business specialities: design, manufacture and web sales – with e-commerce incorporated into its website and a fully equipped workshop with an experienced service department.
Hatz diesel engines have been around since 1910. From its manufacturing base situated at Ruhstorf, Germany, Hatz produces a range of modern diesel engines from 3 to 55 kW. The company's UK subsidiary, Hatz GB Ltd., has its facilities centrally located in Hinckley, Leicestershire.
---
AIR-TECH EXHIBITION


16 April, 2024, 9:30 - 18 April, 2024, 4:00




Hall 9, the NEC, Birmingham, UK

FLUID POWER & SYSTEMS EXHIBITION


16 April, 2024, 9:30 - 18 April, 2024, 4:00




Hall 9, the NEC, Birmingham, UK