Charting the right course to efficiency in the marine industry
09 October, 2018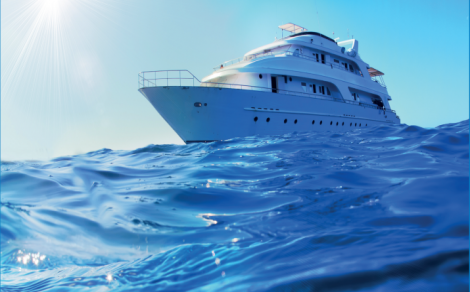 Spokespeople from British Fluid Power Association member companies Phoenix Hydraulics, Hydraproducts UK and Rotec Hydraulics consider some of the challenges associated with effective use and maintenance of fluid power systems and related equipment within the marine sector.
One of the most challenging industry sectors for engineering sciences has to be marine, where technology must be designed and built to withstand the demanding conditions associated with the open seas. Therefore, within the fluid power and related systems and equipment industry, providers to the marine sector need to ensure their products are designed and built to be 100% fit for purpose.
Arguably the most glamorous market segment within the marine industry is superyachts. As many superyachts are based in warmer climes, such as the Mediterranean, the Caribbean or Dubai, the operation and maintenance of electro-hydraulic systems should be performed with equipment that can function effectively in very high temperatures.
Phoenix Hydraulics specialises in the design, manufacture and installation of complete hydraulic systems for boats. The company's products – all designed and manufactured in the UK – include hydraulic tender lifts, bathing platforms, balconies, stainless steel hydraulic cylinders and other large moving systems needed on board. All the company's systems are designed and manufactured in its 20,000 sq ft factory facility in the midlands.
Monitoring
Additionally, Phoenix Hydraulics is now able to install a PLC system to a boat's ethernet network, enabling Phoenix to monitor the equipment remotely from its head office – e.g. if a bathing platform with a safe working load of 2500 kg is subjected to 3000 kg, the hydraulic cylinders will recognise the overload and sensors will alert us that the system is being compromised. "Usually with a safe working load of 130kg, our passerelles are positioned in a box behind the steps and are used for boarding/alighting a boat – should the passerelles be subjected to excessive loads, the latest satellite monitoring technology will alert us immediately," explains Phoenix Hydraulics' director & general manager, Elizabeth Noles, "In normal working circumstances, the passerelle will inform us when maintenance is required - the replacement of filters, the changing of hydraulic hoses, an oil change, etc. To ensure the equipment remains in optimum working condition, we will arrange for maintenance engineers to complete the work at a convenient time."
Concept to design
Rotec Hydraulics Ltd. is another company active within the marine sector, covering both commercial and pleasure applications. Rotec provides service and installation facilities to the local and national fishing fleets, as well as operating systems for fuel, fire and hydraulic services fitted to luxury yachts.
Within the bespoke luxury yacht market, Paul Prouse, managing director at Rotec Hydraulics Ltd., makes the point that time from concept to design based on budget can be difficult to predict as there can be many factors that increase design time over the original estimation. "Customers may have been working for much longer periods (months/years) on their design concept requirements, and when it comes to our part timescales are often short in relation to the overall project timescales," he said. "What could be classed as R&D work for bespoke projects is not always thought about/included in project costings and timescales, which adds pressure on designers to get it perfect first time."
---