BCAS presents lifetime achievement award
08 May, 2018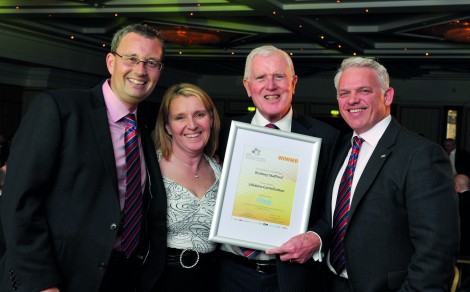 BCAS has presented its Lifetime Achievement Award to Rodney Stafford, at this year's Motion Control Industry Awards.
Rodney, who has worked for HPC compressors for over 45 years, was a past president and also board member of the society and was awarded the accolade in recognition of the 'significant and consistent contribution he has made to the motion control industry over the duration of his career.'
James Maziak, the current president of BCAS who presented Rodney with the award during the gala event said: "Rodney is a true champion of the vacuum and pressure industry. Starting as a regional sales manager for HPC in 1975, he has helped shape the company to become the successful business it is today, playing a key role in developing accounts in the automotive industry and with major gas group, plant hire and construction companies to name a few.
"He has also played a wider role within the industry as a strong supporter and past president of BCAS, taking on many different roles and responsibilities during his time on the board.
"Rodney's contribution, together with his generosity in giving his time and sharing his expertise to others throughout the industry cannot be underestimated and we are delighted to present this Lifetime Achievement Award in recognition of his outstanding contribution."
Commenting on his award, Rodney added: "I was delighted and proud to receive this accolade. To be placed with so many high achievers was, in itself, a great reward and honour and I am most grateful to the board of directors at BCAS, to the president, James Maziak and to Jason Morgan, the managing director of HPC, for putting my name forward for consideration. Thank you, all, for this prestigious award."
The Lifetime Achievement Award is presented jointly by BCAS, the British Fluid Power Association (BFPA) and the British Fluid Power Distributors' Association (BFPDA).
---